Choosing honesty over Tk 5 lakh!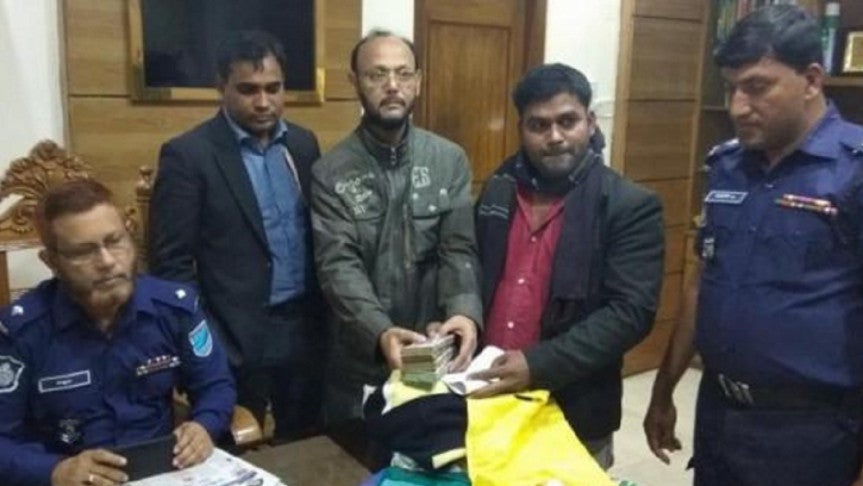 Narayanganj: A bank official found a bag containing several lakhs taka in a CNG autorickshaw and turned it over to the police so that they could return it to its original owner on Monday evening.
Sarwar Jahan, junior officer of UCB Bank's Narayanganj branch and son of Abdul Quader of Paikpara in the city, found the bag on his way home from work, reports the UNB.  
Talking to UNB, Sarwar said after completing office hours, he set out for home from Shyampur in the evening and found the bag with the money and a passport photocopy. The CNG driver knew nothing about the bag in his autorickshaw.
He decided to return the money to the authentic owner of the bag who had lost his money in the auto-rickshaw unfortunately. Later, he deposited the bag at the Fatullah Model Police Station to find out the owner of the money, he added.
Fatullah Model Police Station Officer-in-Charge SM Manjur Quader said the bag contains about Tk 4 to 5 lakh. Being an honest man Sarwar Jahan submitted the bag at the police station.
Seeing the contents of the bag, it is felt the owner may have been looking to deposit it or withdrawn the money ahead of going abroad but unfortunately left his bag in the CNG autorickshaw.
A general diary was filed with the police station mentioning the name of Sarwar Jahan and the CNG driver. Police will start publishing notices through various media including social media Facebook to find the authentic owner and return the money, the OC added.