Niko graft case: Next charge-framing hearing Feb 20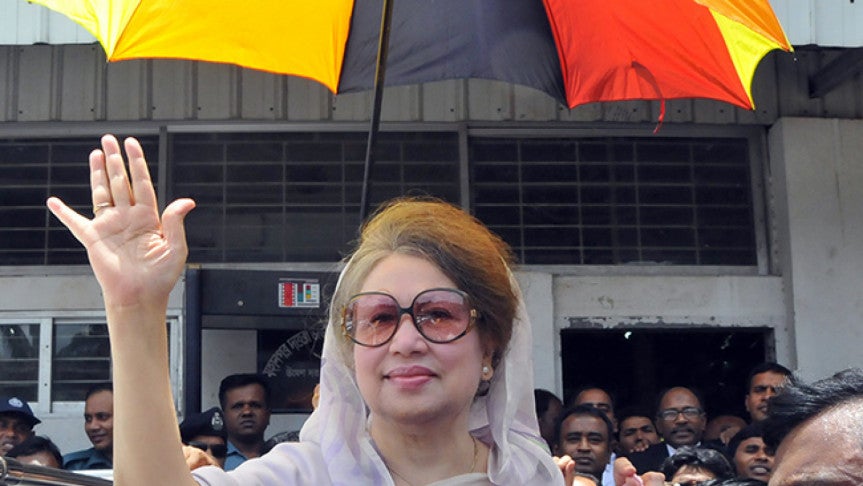 Dhaka: A court here on Monday set February 20 for the next hearing on charge-framing against 11 people, including BNP chairperson Khaleda Zia, in the Niko graft case.
Judge Sheikh Hafizur Rahman of Dhaka Special Judge Court-9 fixed the date after partial hearing.
The BNP chief was brought to the courtroom around 12:28pm on a wheelchair while BNP leader Barrister Moudud Ahmed resumed delivering his statement challenging the legality of charge-framing, reports the UNB.
In his deposition, Moudud said he could not know yet what his crime was. "There's no reason to file a criminal case against me. I'm not involved in the crime mentioned in the FIR of the case."
He also claimed that he was made an accused in the case only to politically harass and defame him.
Meanwhile, Khaleda's lawyer Masum Ahmed sought court's directives to allow personal physicians of Khaleda provide her treatment at jail.
"As per a High Court order, Khaleda Zia was earlier taken to Bangabandhu Sheikh Mujib Medical University (BSMMU) but she was brought back to jail without completing her treatment. Her physical condition is now worsening."
In response, the court asked him to submit the copy of the HC order in his regard.
Khaleda was taken back to the jail around 2:05 pm.
On December 9, 2007, the Anti-Corruption Commission filed the case accusing Khaleda and others of causing the state a loss of Tk 137.77 billion by signing an oil-gas exploration deal with Canadian company Niko when the BNP was in office.
Police submitted a charge-sheet against the accused on May 5, 2008.
The others accused in the case are BNP standing committee member Moudud Ahmed, former state minister for energy AKM Mosharraf Hossain, former principal secretary Kamal Uddin Siddique, Khandaker Shahidul Islam, CM Yusuf Hossain, former Bapex general manager Mir Mainul Haq, its former secretary Shafiur Rahman, Giasuddin Al Mamun, former MP MAH Selim and former vice-president of South-Asia affairs Niko Kashem Sharif.