Dec-30 polls: JOF's public hearing rescheduled for Feb 22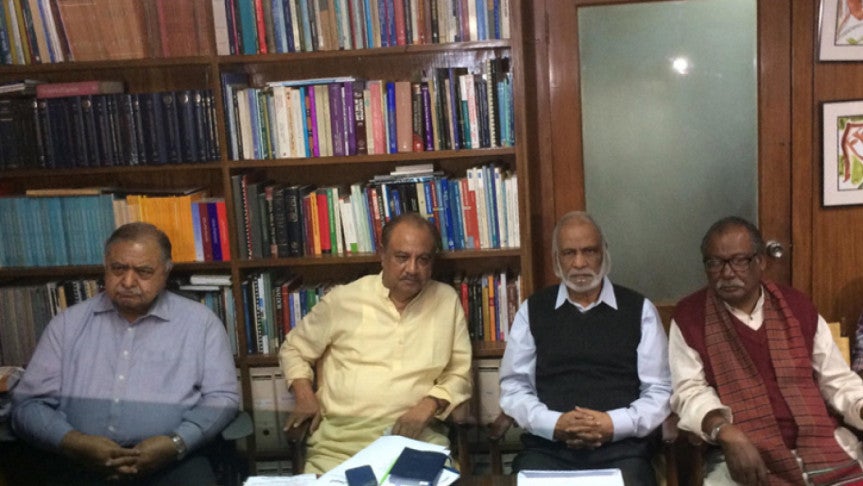 Dhaka: Jatiya Oikyafront will now hold its public hearing in the city on February 22 instead of February 24 to depict the 'real scenario of vote robbery' in the 11th parliamentary election before the country's people and international community, reports the UNB.
The programme will be held at the Supreme Court Bar Association auditorium with Oikyafront chief Dr Kamal Hossain playing the role of its judge.
The decision to reschedule the public hearing came at a meeting of the Oikyafront steering committee at Dr Kamal Hossain's Motijheel chamber on Tuesday, as it failed to manage any venue in the capital to hold the programme on February 24 due to 'obstruction' by the government.
Dr Kamal informed reporters about the decision after the meeting.
He said the public hearing will begin at 10am and continue till 4-5pm with a one-hour break from 1pm.
Replying to a query as to what they want to achieve from the public hearing, Dr Kamal said people are the owners of the country as per the Constitution. 'Election is an important issue. The people will be able to know (through the public hearing) what happened on December 30. The candidates will place their firsthand experiences.'
Earlier on Sunday, Jatiya Oikyafront alleged that it was not getting any venue in the capital to hold its scheduled public hearing on the 11th parliamentary election on February 24 due to obstruction by the government.
Talking to reporters after a joint meeting of Oikyafront steering and coordination committees at Gono Forum's central office, Jatiya Samajtantrik Dal (JSD) president ASM Abdur Rob, however, said their alliance is determined to hold the programme under any circumstances.
On February 13, the alliance decided to hold the public hearing on February 24, Rob had said while talking to reporters on the day. 'Jatiya Oikyafront will arrange a public hearing on February 24, and a court and a trial stage will be set up there. Our sir Dr Kamal Hossain will remain there as its judge,' he had said.