Dr Kamal welcomes Barrister Razzaq's call to Jamaat to apologise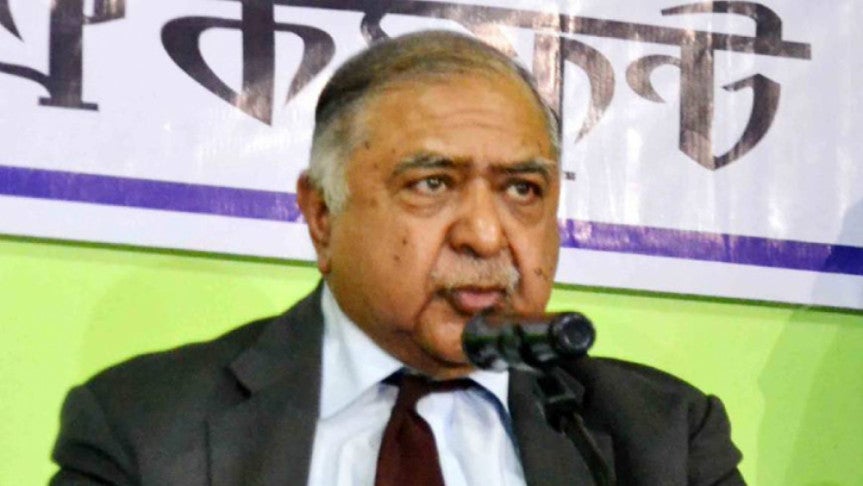 Dhaka: Jatiya Oikyafront convener Dr Kamal Hossain on Tuesday welcomed Jamaat-e-Islami leader Abdur Razzaq's call to the Islamic party to apologise over its anti-liberation war role in 1971, reports the UNB.
'I welcome the call for seeking apology by Jamaat,' he said.
Dr Kamal, also the president of Gono Forum, came up with the remark while talking to reporters after a meeting of Oikyafront steering committee at his Motijheel chamber.
On February 15, Jamaat assistant secretary general Barrister Abdur Razzaq resigned from Bangladesh Jamaat-e-Islami as he said the party failed to apologise for its anti-liberation war role in 1971 and reform the organistion based on reality.
Sought comments by UNB whether rendering apology by Jamaat is enough after so many years, Dr Kamal said: 'It don't think so…a leader of the party only talked about apology. If Jamaat apologises, it'll be the party's first step toward accepting the Bangladesh's Liberation War. But it won't suffice.'
Dr Kamal, a close associate of Bangabandhu Sheikh Mujibur Rahman, formed Gono Forum in 1992 leaving Awami League.
Though his party forged an alliance with BNP, Dr Kamal is against BNP's alliance with Jamaat.
At a meeting of Gono Forum on January 12 after the 11th parliamentary election, Dr Kamal said it was a mistake of his party to join the national election with Jamaat-e-Islami under the banner of Jatiya Oikyafront (JOF).
He also said they would mount pressure on BNP to drop Jamaat from its alliance to keep the Oikyafront intact and make it stronger.