Jamaat can't go away with apology: Hasan Mahmud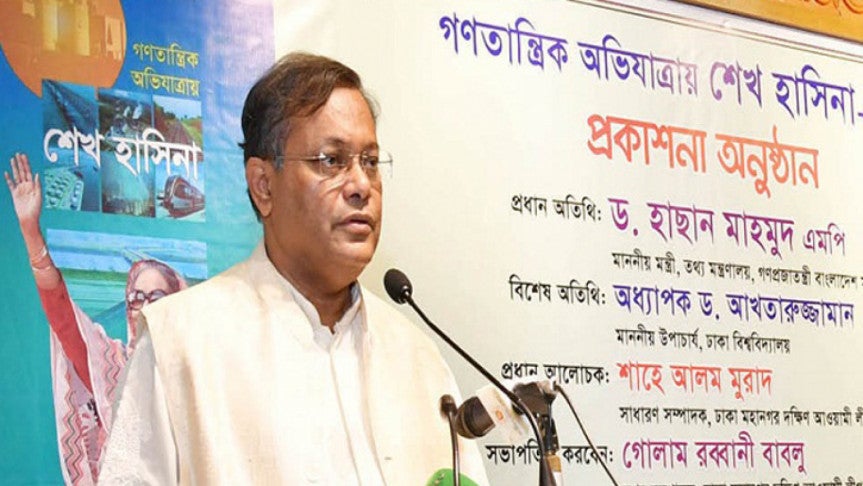 Dhaka: Resignation of some Jamaat-e-Islami leaders and talks about apologies for the party's 1971 role are part of its plot to tackle local and international pressures, Information Minister Hasan Mahmud said Wednesday, reports the UNB.
'Even if it apologises, the party can't get impunity for opposing the Liberation War, committing genocide, arson and torture,' he told a programme at Begum Sufia Kamal Auditorium of the National Museum.
When Jamaat Assistant Secretary General Barrister Abdur Razzaq quit the party on February 15, he cited two reasons – the party's failure to apologise for its role in 1971 and reform the organisation based on reality.
Another local leader of Jamaat resigned citing a similar reason.
Jamaat openly sided with Pakistani occupation forces and tried to thwart Bangalees' struggle for freedom. Most of those found guilty of war crimes are from Jamaat, the largest Islamist party in Bangladesh.
The demand for an apology from the party has been growing. On Wednesday, BNP leader Nazrul Islam Khan said Jamaat 'should be ashamed of its anti-Liberation War role or should apologise for it.'
BNP, founded by Ziaur Rahman, has been a close ally of the Islamist party.
Minister Mahmud said the BNP does not deserve impunity since it joined hands with Jamaat. 
'BNP should also apologise for sheltering Jamaat, forming an alliance with it and making the party part of the government,' he said.