BNP's overhauling begins to wage a movement: Mosharraf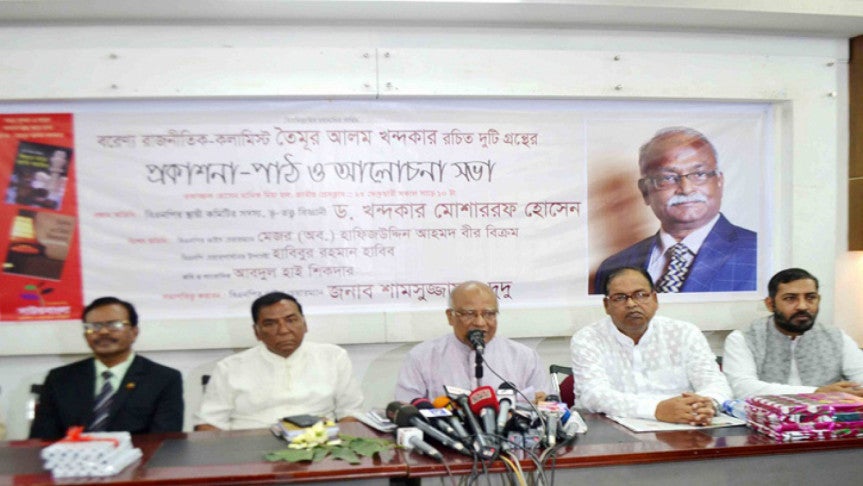 Dhaka: BNP senior leader Khandaker Mosharraf Hossain on Saturday said they have started reorganising their party to launch a movement for getting its chairperson Khaleda Zia released from jail.
'The work on overhauling our party has already begun. We'll strengthen the party by identifying our weaknesses. You (party activists) don't get upset,' he said, reports the UNB.
Speaking at a discussion at the Jatiya Press Club on two books written by party leader Taimur Alam Khandaker, the BNP leader also said falsehood is established defeating the truth in a civilized and democratic society through the December-30 election.
'Mother of democracy Khaleda Zia has been kept in jail. We must wage a movement to free her from jail after strengthening the party. So, wake up instead of getting demoralised,' he said pointing at party leaders and activists.
Mosharraf, a BNP standing committee member, said democracy in the country has been destroyed through an unprecedented farce while people's rights have been snatched. 'I don't believe people will sit idle under such a situation.'
He said BNP leaders and activists have got a big scope to restore democracy in the country. 'As a major party, it's our responsibility to restore democracy. I think people are ready for it so does BNP. But we need some time to strengthen our party.'
He said their party leaders and activists have got stunned, not frustrated, seeing the farce in the name of election and vote 'robbery' on December 29.
The BNP leader warned that the government will not be able to cling to power as it 'robbed' people's votes.  'People will surely establish their rights, restore democracy and free Khaleda Zia. No autocrat regime could hang onto power in the past and this regime won't be able to do so either.'