Shun 'Khaleda-minus formula': BNP to govt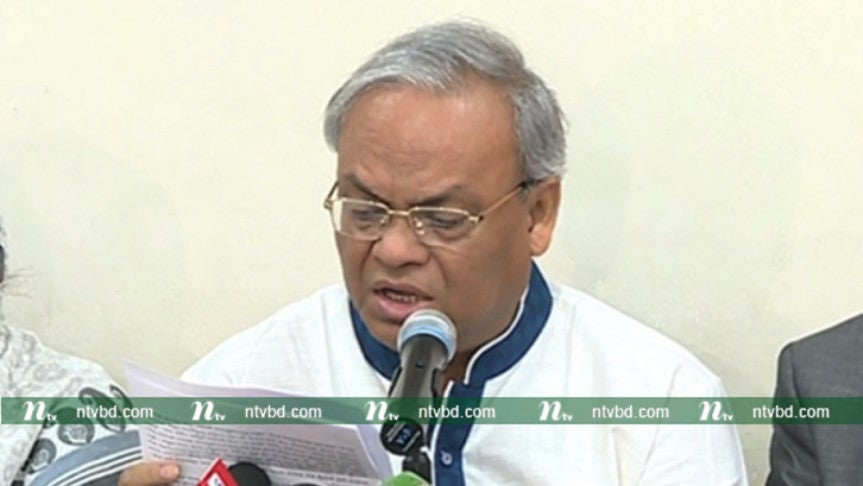 Dhaka: BNP on Thursday urged the government to stop a 'plot' to eliminate its chairperson Khaleda Zia from politics though a 'minus-formula' in the name of parole.
Speaking at a press conference at BNP's Nayapaltan central office, party senior joint secretary general Ruhul Kabir Rizvi also said their chairperson wants to walk out of jail on bail as the cases in which she was convicted are bailable, reports the UNB.
'A widespread propaganda is on over parole. The current regime is hatching a far-reaching plot to make a political gain after putting our leader's (Khaleda's) life at stake,' he said.
Rizvi said there is no point of hatching a conspiracy to remove Khaleda from politics. 'Let the law take its own course without creating any obstacle to granting her (Khaleda) bail. Our leader will be freed on bail through a normal legal process if the illegal interference in court proceedings is stopped,' he said pointing at the Prime Minister.
Rizvi alleged that some pro-government newspapers are carrying out false campaign over Khaleda's release on parole.
'Speculations are there that the intelligence agencies are involved with the media propaganda. The ruling party has resorted to cunning politics to make its mission on parole a success,' the BNP leader said.   
He alleged that some media have been running news without any source about Khaleda Zia's release on parole to go abroad. 'Even, they're mentioning the specific date of her departure. But, BNP has no knowledge about it. Our leader wants to be freed on bail through a normal legal process.'
Rizvi claimed that their chairperson's is seriously ill as she cannot move her hands and legs. 'She has not been given proper treatment. Doctors said her diabetes is still not under control.'
He bemoaned that media outlets are playing a silent role over Khaleda's illness.
The BNP leader said their chairperson wants to receive treatment at a specialised hospital of her choice.