BNP remains resolute not to join parliament: Moudud Ahmed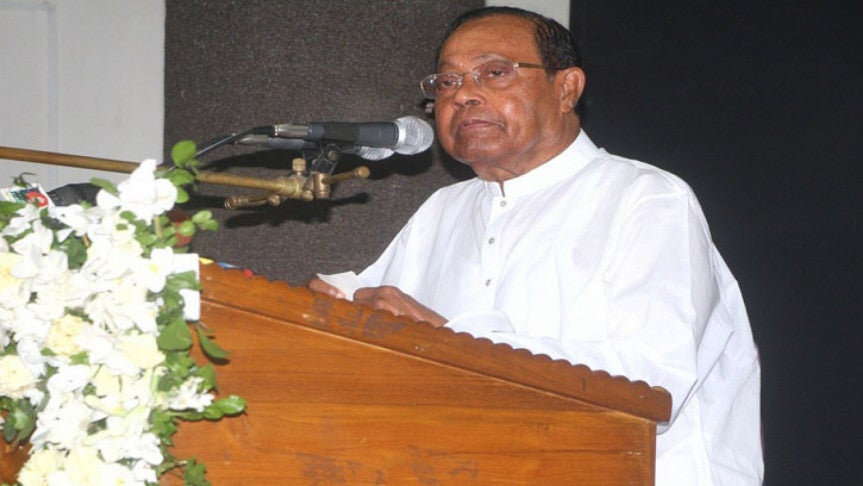 Dhaka: Trashing various media speculations, BNP senior leader Moudud Ahmed on Friday said their party will not back off from its decision of not sending their party MPs-elect to parliament.
'There's no question ...our six MPs-elects won't join parliament. Our party has a decision that our elected members won't take oath. We've also decided to convey them (MPs) our stance,' he said, reports the UNB.
The BNP leader further said, 'Our standing committee member together with our acting chairman (Tarique Rahman) took the decision. There's no reason to retreat from this stance. I think this issue needs to be settled here today. It's unnecessary (to join parliament).'
He came up with the remarks while speaking at a launching ceremony of a book on the political life of BNP chairperson Khaleda Zia at the Supreme Court Bar Association auditorium. Most party senior leaders, including its secretary general Mirza Fakhrul Islam Alamgir, were present at the event.
Addressing the programme, Fakhrul, who is one of the six MPs-elect of the party, did not say anything about the issue.
Moudud, a BNP standing committee member, explained the reason behind not to send their MPs to parliament giving the example of Awami League's attitude shown towards them in the 9th parliament.
'We know the nature of the current ruling party. As we got 27 seats in 2009, they urged us to join parliament promising to show us proper respect and give us nine seats in the front row,' he said.
When BNP MPs went to parliament, Moudud said the Speaker on the very first day told them that it is not possible to give them more than 3-4 seats in the front row. 'So, we should not expect any sympathy and political etiquette from such a narrow-minded party.'
He said they will continue their legal battle to free Khaleda Zia from jail. 'She would have granted bail had the court been independent. We couldn't ensure her bail only because of political reasons. We'll continue to put in our best efforts to free her. But I think there's no alternative to waging a movement to have her released from jail.'
Moudud said the government kept Khaleda in jail and implicated thousands of BNP leaders and activists in 'false' cases to eliminate BNP. 'But I would like to say BNP will survive more than a hundred year as a political party as Awami League has made it stronger through its repressive acts.'
The BNP leader said lakhs of BNP leaders and activists and their relatives will never forget the repression of the current government. 'So, I think this Awami League government has permanently established BNP as a strong political party.'
He also said a political vacuum has been created in the country with government's efforts to eliminate BNP. 'But as a small political scientist, I can say, such vacuum wont' last for a long time.'
Speaking as the chief guest, Fakhrul urged BNP leaders and activists not to get disappointed as their party will overcome the current adverse situation as in the past.
'I never agree with them who say BNP has got eliminated. BNP went through such crises many times in the past and bounced back as well since it's a party of the country's mass people,' he observed.
Fakhrul said Khaleda was sent to jail by the current government with a motive to destroy BNP and the country's politics. 'I would like to say it won't be possible to do so as BNP and Khaleda Zia does politics for the people of the country.'
The BNP leader also said Khaleda, no matter whether she stays in jail or outside, will inspire people to restore democracy in the country.
Shato Nagorik Committee arranged the lunching of the book titled 'Khaleda Zia: Tritiyo Biswer Konthaswar'.
Former Vice-chancellor of Dhaka University Prof Emajuddin Ahmed and poet Abdul Hye Sikder edited the 860-page book.
It is the first book based on complete research on the BNP chief's political life.