UNSC cannot avoid responsibility over Rohingya crisis: Bangladesh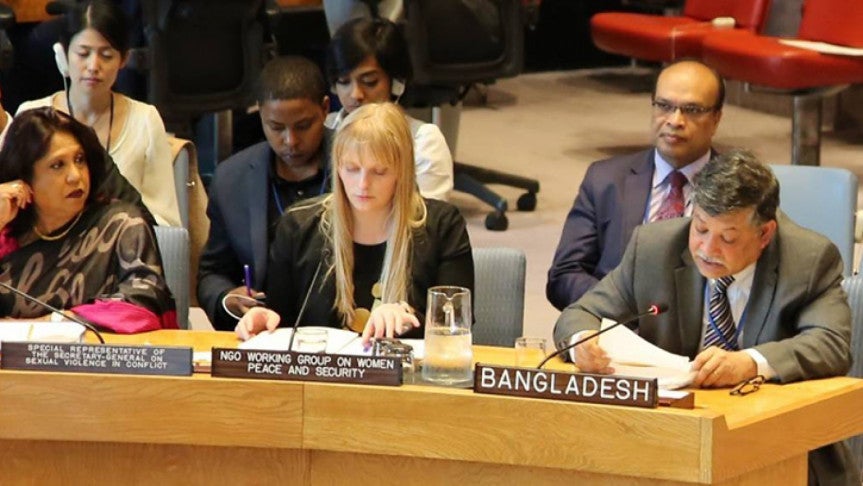 Bangladesh has said the international community, particularly the UN Security Council, cannot avoid the responsibility for a sustainable solution to the Rohingya crisis through voluntary, safe and dignified return of the Rohingyas to their place of origin and bringing the perpetrators to justice.
Permanent Representative (PR) of Bangladesh to the UN Ambassador Masud Bin Momen said this at the Open Debate of the Security Council on 'Sexual Violence in Conflict' at the UNHQ recently, said the Bangladesh Mission on Friday, reports the UNB.
Mentioning that the culture of impunity as experienced by the world in the case of Rohingya crisis-related sexual violence in Myanmar, he said without bringing an end to it, justice cannot be done.
In such cases, the Ambassador said,  ensuring accountability and justice is a must to create confidence and incentivize repatriation which they do not see happening.
In this context, Ambassador Masud asked the Council –'Would you expect these Rohingyas particularly the women and girls who have been subject to unspeakable sexual violence to be willing to return without any guarantee that the same fate would not befall upon them?'.
He recalled the horrific experience during Bangladesh's Liberation War in 1971 when the women of Bangladesh had gone through widespread and systematic sexual violence and abuse as a tactic of war.
He said, 'That has come back with the Rohingya humanitarian crisis. According to 'Save the Children', in 2018 alone, an estimated 4,000 Rohingya babies were born in the camps many of whom are unwanted even by their mothers, as we can all imagine, why? Their recognition, compensation, and ensuring for them a better future in their country of origin is something the international community should take a hard look at.'
Highlighting Prime Minister Sheikh Hasina's 'zero tolerance' policy on Sexual Exploitation and Abuse, he said in  Bangladesh, as a top troops/police-contributing country, they have ensured awareness raising and pre-deployment training for all of their peacekeepers.
'We've also implemented guidelines by our Supreme Court by establishing women-only committees in workplaces to hear complaints against discrimination and sexual violence against women and girls. Our authorities are going ahead with the National Plan of Action on women, peace and security with the help of UN Women.'
Ambassador Masud also enumerated Bangladesh's initiatives to prevent sexual violence such as, strengthening national laws and investigation mechanisms, providing protection to victims, ensuring victims' rights for sexual and reproductive healthcare and reparation and capacity building at local and national levels.
The UN Secretary-General Antonio Guterres, Special Representative of the Secretary-General on Sexual Violence in Conflict Pramila Patten, Nobel Peace Prize Laureates in 2018 Dr Denis Mukwege Mukengere and Nadia Murad and Barrister Amal Clooney spoke at this high-level open debate.
The open debate focused on the importance of accountability, and also addressed survivor-centred approaches to addressing sexual violence in conflict settings.
The event was convened by Germany, the President of the Security Council for the month of April.