Don't let war criminals return to power: PM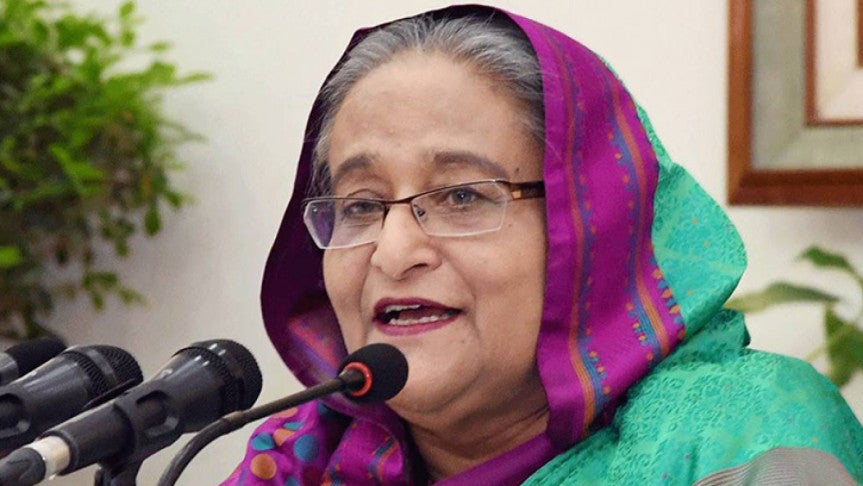 Dhaka: Prime Minister Sheikh Hasina on Friday urged all to remain alert so that anti- liberation forces and war criminals cannot return to power.
'We all have to remain alert so that anti-liberation and war criminals cannot come to power again to play with the fate of people,' she said.
The Prime Minister said this when leaders of Awami League and its associated bodies came to her official residence Ganobhaban to greet her marking her Homecoming Day, reports the UNB.
On this day, in 1981, then newly elected Awami League President Sheikh Hasina returned home from her self-exile after the brutal assassination of Bangabandhu Sheikh Mujibur Rahman and his family members.
Hasina said Awami League had always engaged in struggle to establish democracy in the country. 'Because, we believe without democracy it's not possible for a country to advance socioeconomically,' she said.
Hasina thanked the grassroots Awami League leaders and activists to keep the organisation alive defying all sorts of conspiracies and hurdles to destroy it.
She mentioned that Awami League is currently the number one political party in the country.
The Prime Minister said Awai League gained the trust of people and that is why they cast their votes for it in the last parliamentary elections.
'The reason behind this success is that the party worked for the welfare of people, for the development of the country…people realised it properly and that the most important thing for a political party,' Hasina said.
For a political leader, she said, it is very much important to gain the trust and confidence of people.
Hasina, also the Awami League chief, said it is very much normal for a political party which is in power to lose its popularity. 'But, Awami League has gained the confidence and trust of people while in power.'
In the last 10 years, the Prime Minister said, the government has taken the country forward socioeconomically, reduced the poverty rate and strengthened the national economy. 'Now Bangladesh stands at a dignified position on the global stage.'
Hasina, who is the party president for the last 38 years, said she and her family members have not done anything during her party presidentship that may tarnish the country's image.
'We never worked for our personal gains, we always worked for the welfare of the country, we always think what we've given to people, what we've done for improving people's fate,' she added.
Hasina said the efforts of Awami League as a party is to take the country forward.
Mentioning her 38-year long tenure as the party president, Hasina said, 'This is too much. Now time has come for you, too. I'm getting old as well,' she said.
Recalling her Homecoming Day, Hasina said thousands of people had gathered at the airport defying inclement weather on that day.
'I might not have found my known faces on that day, but I was overwhelmed by the love and affection of thousands of people there,' she said.