Khaleda Zia paved way for Ershad to take over in 1982: Sheikh Hasina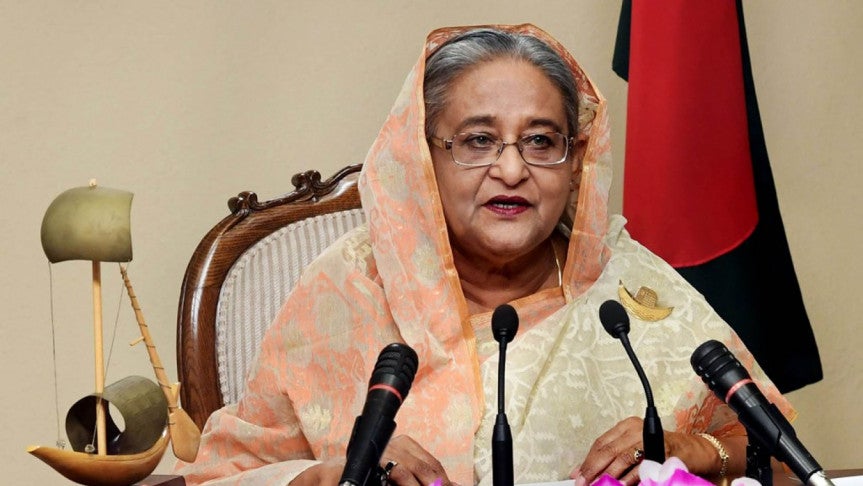 Prime Minister Sheikh Hasina on Sunday accused Khaleda Zia of paving the way for HM Ershad to take over power in 1982 and enjoying various facilities from the former military ruler.
"Sattar (Justice Abdus Sattar) was the acting chairman of BNP. Though Begum Khaleda Zia didn't join politics at that time, she suddenly made a statement to oust Sattar from the post of chairman. I would like to say Khaleda Zia had created the scope for Ershad to grab power in 1982," she said.
The Prime Minister made the remarks taking part in discussions on the condolence motion on late opposition leader HM Ershad and others at the Jatiya Sangsad.
"This is why General Ershad gave them not only two houses but also many other facilities, including Tk 10 lakh in cash. So, BNP didn't move for the Zia killing case at that time. After many years -- may be in 1991 or 1994 --Khaleda Zia blamed Ershad for killing her husband.
Sheikh Hasina said Justice Abdus Sattar was BNP candidate in the 1981 presidential election. In fact, then Army chief General Ershad had made him (Sattar) the candidate.
In a foreign newspaper, Ershad announced Sattar as his candidate. But Awami League raised objection to such a candidature and urged for holding the election in a fair manner for the sake of democracy, she said.
Sheikh Hasina also recalled the role of former MP and National Awami Party President Prof Muzaffar Ahmad during the Liberation War and that of Indian minister Sushma Swaraj, particularly in implementation of Land Boundary Agreement signed between Bangladesh and India.
Mentioning that the higher court declared illegal the grabbing of power by both Ziaur Rahman and HM Ershad, the Prime Minister said calling the duo as president is illegal as per the court verdict.   
The Leader of the Parliament, however, said Ershad was personally amicable and prayed for salvation of his departed soul.
Talking about Ershad's regime, Hasina said he would not be controversial had the 1986 parliamentary elections been free and fair.
No party had in fact joined the 1988 parliamentary elections and he had to step down in the face of a movement in 1990, Hasina told the House.
She said BNP also held such elections on February 15, 1996 when Khaleda Zia was in power. "Almost no party joined the election at that time, too. Though she announced herself as the Prime Minister being elected at that time, she failed to stay in power."
Hasina said Khaleda Zia was forced to step down within 45 days on March 30 in the face of a movement by people.
"No matter who says what regarding the election, the fact is that no-one can stay in power without public mandate," she said.
She extended her thanks to Raushon Ershad for her role when BNP boycotted the 2014 general election though many quarters still try to raise question about that election. 
"Had there been no participation of people in the polls, we would not have been able to stay in power," she said adding that her government had completed the five-year tenure before that.
Welcoming BNP MPs for joining parliament being elected in the 2018 general election, the Prime Minister said the democratic trend cannot be strengthened without strong opposition in Parliament.
Referring to criticisms from BNP MPs about the 2018 election, she said, "Hadn't the people voted in that election, they could have waged a movement taking people with them and oust us from power as  we toppled Khaleda Zia's government formed through a voter-less election within one and a half months in 1996."