Cyclone 'Bulbul' wreaks havoc in coastal districts; 6 dead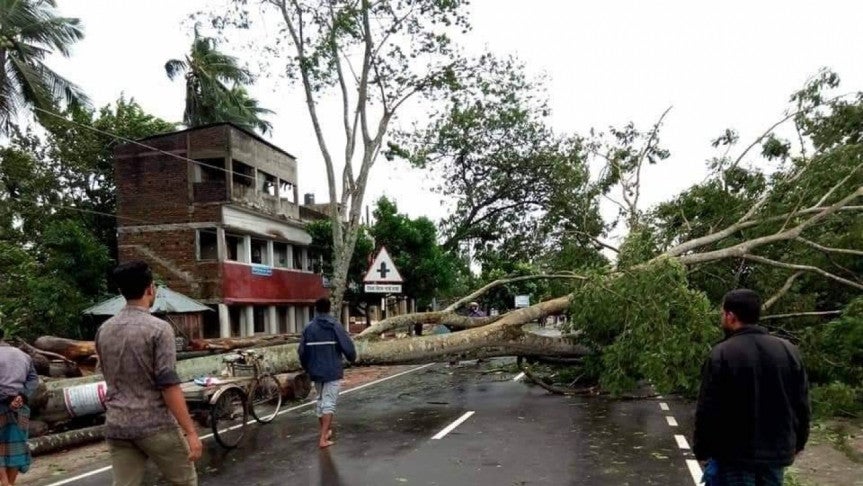 Six people were killed in Bagerhat, Khulna, Patuakhali and Barishal districts as cyclone 'Bulbul' made a landfall in Khulna and adjoining southwestern part of the country early Sunday before weakening into a deep depression.
 
Meanwhile, three other people, who took shelter in cyclone centres, died of cardiac arrest after being panicked in Patuakhali, Satkhira and Barguna districts.
The cyclonic storm, which turned into 'severe' from 'very severe' on Saturday night, completed crossing the West Bengal-Khulna coast near the Sundarbans around 5am and then weakened further into a deep depression.
The deep depression over Barishal, Patuakhali and Bhola regions moved slightly northeastwards, weakened further into a depression and is lying over Noakhali, Barishal and Patuakhali regions at 6pm on Sunday.
 
It is likely to move in a northeasterly direction further and weaken gradually by giving precipitation. Under its influence, steep pressure gradient persists over the north bay and southern part of Bangladesh.
 
The maritime ports of Mongla, Payra, Chattogram and Cox's Bazar have been advised to keep hoisted local cautionary signal No 3.
The cyclone uprooted trees, damaged dwellings and croplands in different coastal districts, including Patuakhali, Bhola and Satkhira and Khulna.
In Khulna, Promila Mondol, 52, was killed as a tree crashed on her during the storm in Dacope upazila in the morning, said Upazila Nirbahi Officer Abdul Wadud.
Besides, Alamgir Hossain, 40, was killed as a tree branch fell on him in Dighalia upazila of the district around 9am, said Mollik Morshed, officer-in-charge of Dighalia Police Station.
In Bagerhat, Samia Khatun, 15, of Bhorasapur village in Rampal upazila, and Hira Begum, 27, wife of Masum Sheikh of Chakuli village in Fakirhat upazila, were killed during the cyclone.
Samia died and two people were injured after a tree fell on their house while they were asleep at Bhorasapur village in Rampal in the morning, said Pankaj Chandra Roy, superintendent of Bagerhat police.
Hira was killed after a huge tree branch fell on her while she was moving to another house from hers around 11am, said Quamrul Islam, Bagerhat Additional Deputy Commissioner.
Khalek Kanak, Rampal upazila fisheries officer, said 3,529 fish enclosures in different upazilas were flooded due to heavy rain triggered by the cyclonic storm. 
Besides, crops on 35,529 hectares of land were damaged by the cyclone in the district, he said.
In Patuakhali, Hameda Fakir, 65, was killed as a tree collapsed on a house at Rampura village in Mirzapur upazila early morning, said upazila parishad chairman Abu Bakar.
Besides, Sufia Begum, 65, died of 'heart attack' after being panicked at Purbo Dhankhali Government Primary School cyclone shelter in Kalapara upazila on Saturday night, according to the control room in the district.
Kuakata municipality mayor Shah Alam Hawaldar said some 10,000 people were marooned in low-lying areas while crops on vast tracts of land went under water.
In Barishal, an elderly woman was killed as a tree fell on her during the cyclonic storm in Wazipur municipality in Barishal on Sunday afternoon.
 
In Barguna, Halima Khatun, wife of Mozaffar Hossain of Banai village, in Sadar upazila, died of cardiac arrest at a cyclone centre on Saturday night, said Anisur Rahman, Sadar Upazila Nirbahi Officer.
 
The local administration provided Tk 25,000 for the family of Halima, he said.
In Satkhira, around 80 percent kutcha and semi-pucca houses were damaged at Gabura union during the cyclone, said Shyamnagar UNO Md Kamruzzaman adding that electricity supply and internet connections remained snapped in the upazila since the cyclone lashed the area.
Several hundred shrimp enclosures went under water in Gabura, Padmapukur, Atulia, Kashimari and other unions in the upazila, he said.
Meanwhile, Abul Kalam died of 'heart attack' while returning home from a cyclone shelter in Gabura union in the morning, the UNO added. 
In Bhola, at least 10 people were injured and 15 dwellings damaged in Lalmohon and Charfasson upazilas on Saturday night.
Five of the injured were identified as Sajeda Begum, Tarique, Arif, Sharif and Mustafiz, and they all are residents of the village.
Of them, Tarique, 17, who suffered severe injuries is undergoing treatment at Charfasson Hospital, said Mir Khairul Kabir, officer-in-charge of Lalmohan Police Station.
Lalmohan UNO Habibul Hasan Rumi said eight people were injured at Lord Hardinge union in the upazila. Four of the injured were taken to Charfasson Hospital for treatment.
At least seven houses were damaged by the storm at different villages in Wajpur union of Charfasson upazila around 9pm, said Wajpur union parishad chairman SelimHawlader.
State Minister for Disaster Management and Relief Dr Md Enamur Rahman on Sunday said some 4,000-5,000 houses were damaged by cyclonic storm 'Bulbul'.
"The damage by cyclone 'Bulbul' was much lesser as the wind speed was only 80km-90km per hour," he said while addressing a press briefing at the Secretariat on the post-cyclone situation.
The state minister claimed that two people were killed 30 others injured during the cyclone.
He said the exact extent of damage will be informed later based on the information to be provided by the deputy commissioners concerned.
Enamur said over 2,106,918 people were evacuated to some 5,787 cyclone centres in the coastal areas.