Holey Artisan Verdict: Security beefed up in court area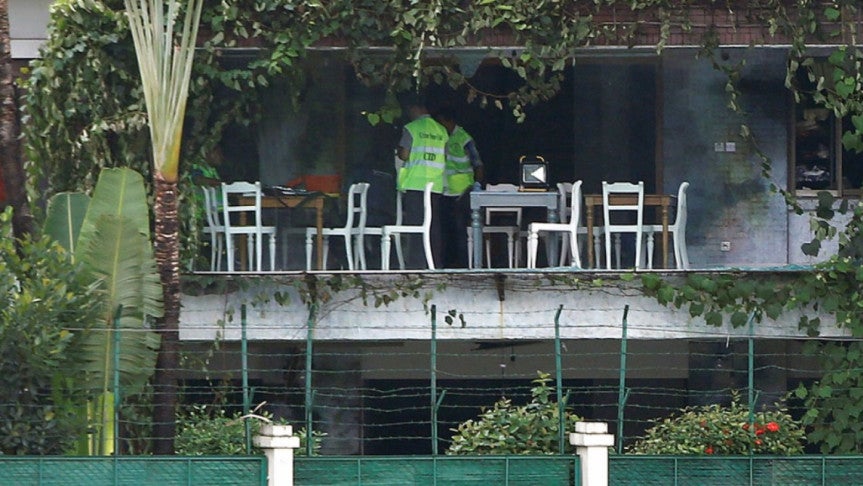 Security has been ratcheted up in and around the Dhaka Metropolitan Sessions Judge Court area ahead of the verdict in Holey Artisan café attack case.
"The law enforcers are on alert," said Masudur Rahman, deputy commissioner (media) of Dhaka Metropolitan Police (DMP), the UNB reported.
Members of law enforcement agencies were seen taking position in the court area since morning. They allowed people to enter the court premises after thorough check.
The verdict is scheduled to be delivered on Wednesday noon by Dhaka Anti-terrorism Special Tribunal Judge Mohammad Mujibur Rahman.
An attack on the upscale restaurant in the heart of the diplomatic quarter shook the nation. Twenty-two people – nine Italians, seven Japanese, an Indian, a Bangladeshi-born American and two Bangladeshis along with two police officers – were killed in the attack on July 1, 2016.
Twenty-one people were identified to be behind the attack. Among them, 13 were killed in gunfights at different times. The other eight accused are in jail.
They are – Jahangir Alam alias Rajib Gandhi, Mahmudul Hasan Mizan, Sohel Mahfuz, Rashidul Islam alias Ryash, Boro Mizan and Hadisur Rahman Sagor, Mamunur Rashid Ripon and Shariful Islam Khaled.
Hasnat Karim, a North South University teacher who was one of the hostages and later detained, was acquitted since there was no evidence of his complicity with the attack, police said.
On July 23, 2018, police pressed charges against eight people in the case. The tribunal framed charges against them on November 26 of the year. On December 3 last year, the trial began with the deposition of witnesses.
On November 17 last, the tribunal set November 27 for delivering its verdict.