UC polls: 1 killed, 53 hurt; vote cancelled in 17 centres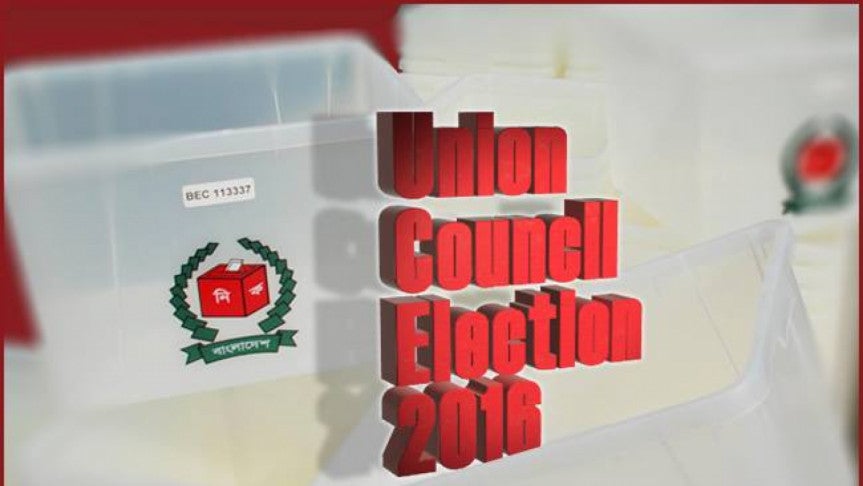 A man was killed and 53 people were injured in separate clashes during the third phase union council (UC) elections in several districts on Saturday.
In Pabna, A man was killed and at least 10 others injured in a post-election triangular clash among members of Border Guard Bangladesh (BGB), leaders and activists of Awami League and BNP at Chatmohor upazila on Saturday evening,
The deceased is Emdad Hossain, 60, son of Amzad Hossain, a resident of Bahadurpur village of the upazila.
Chatmohor police officer-in-charge Subrata Kumar Sarker said local leaders and activists of both AL and BNP staged demonstration following the delay to publish the poll result at Bahadurpur Polling Station in Mathurapur Union Parishad in the evening.
At one stage, they swooped on the BGB members at about 7:00pm, leading to a triangular clash.
As the BGB fired gunshots to bring the situation under control, Emdad sustained bullet injuries.
Later, he was whisked off to a Chatmohor Upazila Health Complex where he succumbed to his injuries.
On the other hand, Assistant Director of BGB, who was in charge of Bahadurpur polling station, said BGB members opened fire to control the situation, and some people received injuries due to the firing.
In Chandpur, 25 people including a policeman, were injured in separate clashes between the leaders and activists of local Awami League and BNP units during polls to some 25 UCs in Faridganj and Hajiganj upazilas.
Police and witnesses said nearly 9 people suffered injuries in a clash at Dhanua polling centre in Faridganj while one policeman was injured with bullets at Lohagarh centre in the same upazila and 15 people were injured in other clashes in different unions of Hajiganj upazila.
In Brahmanbaria, three journalists were injured in an attack allegedly by the supporters of the Awami League-backed chairman candidate while covering irregularities at the Chunta AC Academy polling centre in Sarail upazila.
Witnesses said the supporters of AL-backed chairman candidate Shahjahan Mia stormed the polling centre and started stamping ballot papers.
At one stage, they swooped on three on-duty journalists–Pijush Kanti Acharya, bureau chief of ATN Bangla, its cameraman Sumon Roy and My TV's cameraman Jabed–as they moved to cover vote rigging, leaving them injured.
Besides, miscreants exploded 10 crude bombs during a clash between two groups of the member candidates at a polling centre in Sarail upazila during the election at noon, leaving eight people injured.
The injured people of the two incidents were taken to different hospitals.
In Jamalpur, ten people suffered injuries as the supporters of two member candidates– Mofazzel Hossain and Shahjahan Munshi–of Gaibandha union locked in an altercation over taking control of the Porarchar Government Primary School polling centre in Islampur upazila at about 10:00am.
At one stage, both the groups swooped on each other, leaving 10 people injured.
Police fired 6-7 bullets to disperse the clashers.
In Lakshmipur, two policemen – sub-inspector Selim and constable Shaiullah – were injured with bullets as miscreants opened fire at them while they were on duty at Sundara Govrnment Primary School polling centre in Ramganj upazila in the afternoon, said Ramganj police officer-in- charge Tota Miah.
They were first taken to Ramganj Upazila Health Complex and later shifted to Noakhali Medical College Hospital as their condition deteriorated.
In Noakhali, SI Nur Alam of Chatkhil Police Station and two Ansar members – Khurshed and Harun –received injuries in two polling centres in Chatkhil upazila as they tried to resisted miscreants from snatching ballot boxes from the centres.
Meanwhile, voting in 17 polling centres of Laxmipur, Chandpur, Sherpur and Noakhali districts were suspended following allegations, capturing the centres and stamping ballot papers forcibly during the election.
Voting in five polling centres of six unions were suspended in Chatkhil upazila of Noakhali while, four centres in Faridganj upazila of Chandpur, two in Raipur upazila of Laxmipur, one in Sadar of Sherpur district and five in Chandpur.
The balloting in the third phase of the elections to the lowest tier of the local government body began at 8:00am and ended at 4:00pm on Saturday.