'Khaleda Zia won't be spared from planned killing case'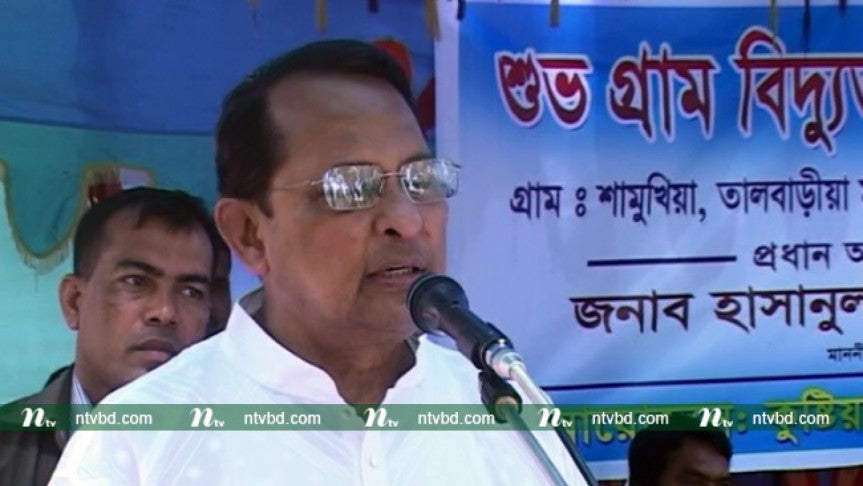 Information Minister Hasanul Haq Inu has said that BNP may or may not take part in the forthcoming city corporation elections, but its Chairperson Khaleda Zia will not be spared from the case of planned killing.
Inu said, 'No chance will be given so that a government formed by Razakars and terrorists comes back in Bangladesh again.'
Inu made the statement while inaugurating electricity connection in some villages under Mirpur Upazila of Kushtia on Saturday. The programme was organised by Bangladesh Rural Electrification Association, Kushtia.
The information minister said 'We brought the price of fertiliser and other things under control right after coming to power in 2008. Khaleda Zia could not do that because she had no thought for the country. She did not think about electricity, fertiliser and market price.  She and her son were busy in stealing and in planning to kill people.'
Referring to a newspaper, Inu said 'Khaleda Zia has said that their programme will continue even after they take part in the elections. That means, violent activities will continue. I clearly say that whether she take part in the election or not, she will not be spared from the case of planned killing.'
The convenor of National Women's Alliance, Inu's wife, Afroza Haque Rina, Mirpur UNO Azad Hossain, Kushtia additional superintendent of police Sohel Reza, Rural Electrification Association, kushtia General Manager Mokhles Goni, Kushtia Jasad president Golam Mohsin, Jatiya Party (JP) organising secretary Jahangir Hossain and the villagers were present at the programme.