Wedding in Mymensigh turns into brawl, 30 injured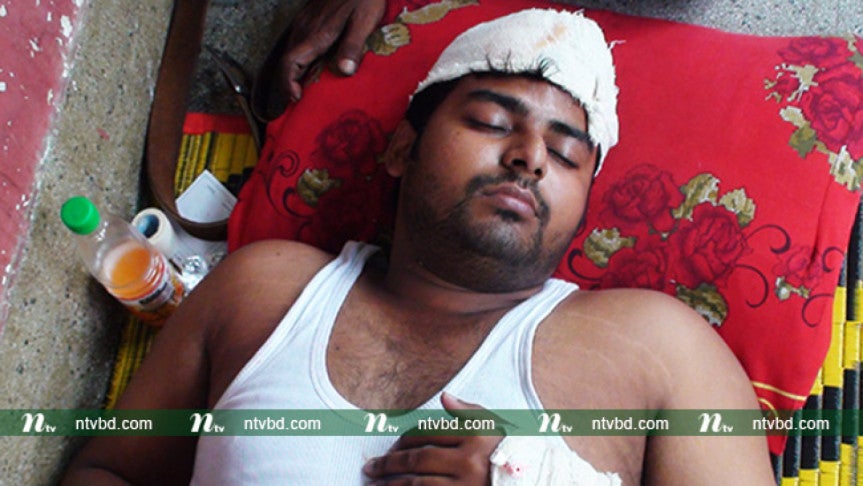 Mymensigh: At least 30 people came with the bridegroom, including the man himself, were critically injured after members of the bride family allegedly attacked them at a wedding ceremony at Mymensingh, about 120 km north of Bangladesh's capital Dhaka.
The incident took place at Dhupikora village of Sutiakhali upazila of the district when the groomsmen came to the bride's home at about 9:00pm on Friday from Charpara village of Mymensingh Sadar upazila.
The injured were receiving treatment at Mymensingh Medical College Hospital and Churkhai Medical College until filing the report.
The groom's elder brother Mehedi Hasan Manik on early hours of Saturday lodged a complaint with Kotowali Model Police Station against the bride's father and 20 other unidentified people from the bride's side.  
The bridegroom's family and relatives claimed the people from bride's side snatched their five mobile phone sets, eight money wallets, hand watches and sunglasses. People allegedly from the bride's side also vandalised a microbus and a bus of 'Alam Asia'.
Statement from bridegroom's side
Bridegroom's nephew Sabbir Hasan, one of the injured, also the general secretary of local Awami League unit, said the wedding ceremony were arranged between Lutfur Rahman's son Al Imran Hossain, also a Mymensing district Jube League member, and Jamal Uddin's daughter Setu. The bridegroom side went the bride's house along with more than 100 people and handed over the wedding gifts including ornaments, clothes and cosmetic products to the bride side.
All of a sudden, at least 30 people from the bride's side attacked bridegroom side with sticks and bricks and they beat up the bridegroom and his associates.
Sabbir also alleged the bride side's people are local activists of Bangladesh Nationalist Party, Jamaat-e-Islami and Islami Chhatra Shibir and the groomsmen are activists of local Awami League.
Statement from bride's side
The bride's father Jamal Uddin said, 'We refused to hand over our daughter to the bridegroom as we in the meantime came to know the bridegroom is a drug addict and bad man.'
'But the bridegroom's side forcefully wanted to pick up my daughter. Soon after we had discussed the matter with our neighbours, the incident took place. I don't know details about the matter,' Jamal Uddin added.
Contacted, Kotowali Model Police Station duty officer Sultana said she was not aware of the incident.
Later contacted with Kamrul Islam, office-in-charge of the police station, he said we received a complaint from the bridegroom's side.