Rangpur raid
Hoshi Kunio murder 'mentor' among 4 JMB members held in Rangpur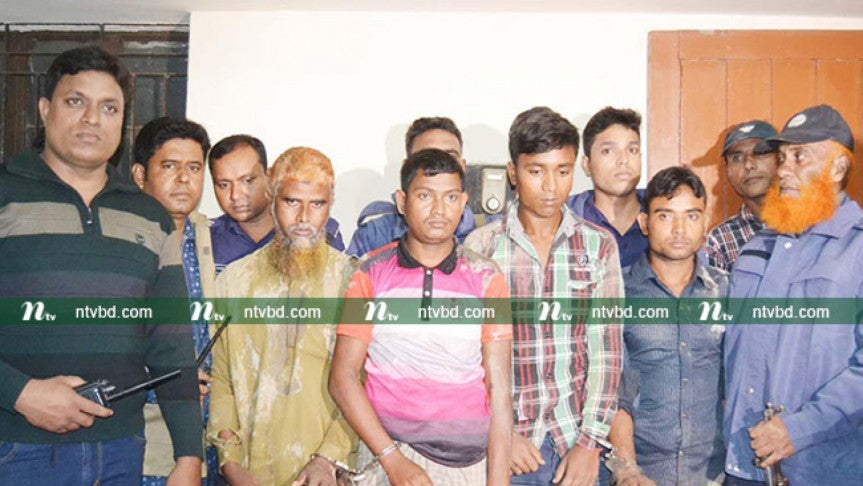 Bangladesh police said they arrested early Sunday a veteran Islamist extremist who had 'mentored' the assassins of a Japanese farmer shot dead last year.
Rangpur district police chief Mizanur Rahman said Belal Hossain, described as the recruiter and mentor of the killers of Kunio Hoshi, was detained along with three of his followers during an operation in the northern district.
'Hossain was an absconding militant and a senior member of the JMB who mentored and trained up Kunio's killers,' Rahman said.
He was referring to the homegrown Jamayetul Mujahideen Bangladesh (JMB), an extremist group which has been banned for over a decade.
'We caught four of them near an abandoned brick kiln,' Rahman told AFP, adding the militants injured four policemen by hurling home-made bombs.
The official said the arrest of Hossain, 45, would help in the hunt for more militants since he was 'a mentor to many others'.
Hoshi, 66, was killed on 3 October last year in a drive-by shooting on a dirt road outside Rangpur, where he was a long-term resident.
Although the Islamic State group claimed responsibility for his killing, police later detained eight JMB members and formally charged four of them with the murder.
Bangladesh has been reeling from a wave of attacks on foreigners, rights activists and members of religious minorities, among others.
Prime Minister Sheikh Hasina's secular government blames local militant groups including JMB for the attacks, rejecting claims by the IS that it was behind the carnage.
Since a deadly attack in July on a Dhaka cafe in which gunmen killed 22 people -- mostly foreigners -- security forces have shot dead at least 40 Islamist militants.
Among those killed was a Canadian of Bangladeshi origin described by police as the mastermind of the cafe attack.
Police held the four suspected members of banned militant organisation Jama'atul Mujahideen Bangladesh (JMB) during a raid at Pirgacha in Rangpur in the early hours of Sunday.
The detainees are Belal Hossain, a resident of Durgacharan village of Pirgacha, Ershad Alam, a resident of village of Pashua Tangail para, Ashraful Islam, and Al Amin, of the village of Pashua Khanpara.
The police said being tipped off that a gang of JMB members were planning for violent act the law-enforcers conducted a drive at about 2:30am at an abandoned brickfield in the village of Shahabajpur at Chandanpat union of Sadar upazila in Rangpur.
Sensing the presence of police, JMB members hurled crude bombs to police. Police also fired back. Later, police held four JMB activists and recovered locally made arms from the spot.
Police recovered a local pistol, two machetes, a Chinese axe, and three crude bombs from the spot.
However, three of the injured police members are district detective police Sub-inspector (SI) Masud Karim, Constable Asad, Kotwali police Constable Kutub.
The Kotwali police Officer-in-charge (OC) ABM Jahidul Islam told NTV Online four JMB members were held and arms were recovered during a drive in Pirgacha area.