Attack on Jhalakathi Hindu temple during prayer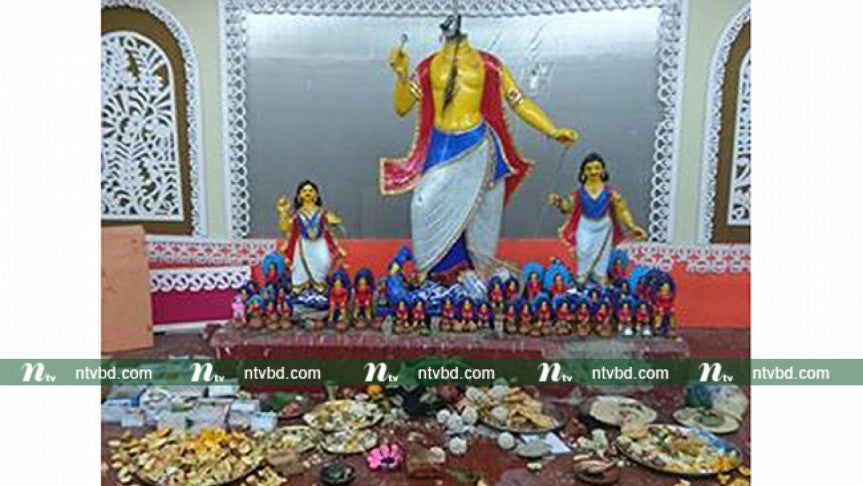 Jhalakathi: Amid the countrywide outcry over Nasirnagar attacks on Hindu houses and temples, a group of local traders attacked a temple of Goddess Kali and vandalised idol of Hindu god while the believers were praying at a city in Jhalakathi on Wednesday night.
Around eight people including police members were injured as a clash erupted between the attackers and law enforcers following the attack. The injured were taken to Jhalakathi Sadar Hospital.
Local people said the temple authorities had a land related dispute with a group of rice traders.
The temple authorities claimed the traders have been running business on their land. Few days back, the businessmen were notified to shift their business from the land as the temple authorities wanted to expand their temple. But, the traders refused to shift their business. Moreover, they were carrying their business inside the extended space of the temple.
Following the cold wars between the groups, the rice traders, led by Hakim Talukder, Dulal Debnath, Gopal Debnath, and Samir Debnath, hurled stones at the Hindu followers who were worshiping god Kartik at about 11:00pm. The sudden attack triggered a clash between the groups. The attackers also vandalised the idol of god Kartik with sticks.
Later, police went to the spot and chased the attackers. The attackers threw stones to police officials and eight including a police official were injured.
The temple committee General Secretary Pranab Kumar Nath Bhanu said the temple came under attack following a previous clash with the rice traders in the neighbourhood.
The Jhalakathi additional superintendent of police (ASP) Abdur Raqib said the area is now under police control. However, the attackers managed to flee from the spot.