Drive at Moulvibazar 'militant dens' suspended for heavy rain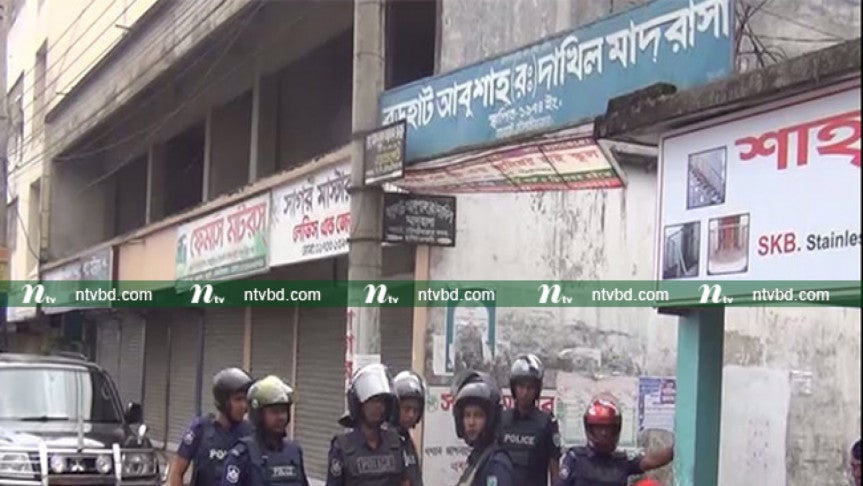 Moulvibazar: The joint forces' raid on two 'militant dens' at Nasirpur village in Sadar upazila and at Barhat in municipality area in the district, was suspended on Thursday morning due to heavy rain.
The joint team comprising members of Special Weapons and Tactics (SWAT), Counter Terrorism and Transnational Crime (CTTC) unit, Rapid Action Battalion (RAB) and district police suspended the operation codenamed 'Operation Hit Back' due to heavy rain that started since early morning, said a member of CTTC unit, wishing anonymity.
Earlier, on Wednesday, the joint forces have launched an operation at the 'militant hideout' at Nasirpur village in Sadar upazila in the evening.
Sounds of gunshots were heard from the area around 6:15pm as the joint forces tried to make their way into the house. However, there was no retaliation from the 'militant den'.
The law enforcers also encircled the other 'militant den' at Barhat in municipality area.
Meanwhile, the local administration shut down all the educational institutions in and around the spots for ensuring the security of civilians, police said.
Besides, police evacuated the residents of the area safely.
On the other hand, the local administration imposed section 144 in Barhat area and within a 2-km radius of the 'militant den' at Nasirpur.
Detectives identified the 'militant den' of Barhat keeping close watch on the house for three days and gathering information about the tenants.
Meanwhile, police arrested 11 from the Nasirpur village on Wednesday suspecting their involvement in militant activities, said the OC.
Earlier, 10 people, including four militants and two police officials, were killed and at least 40 people injured during the 83-hour long operation, 'Twilight', at Atia Mahal, said Army's Military Intelligence Director Brigadier General Fakhrul Ahsan.