Journalist Probir Sikdar lands in jail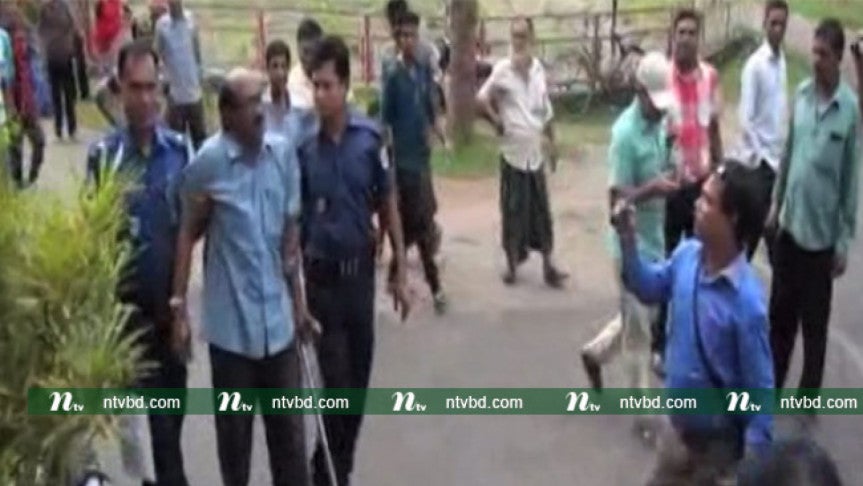 Faridpur: A court in Faridpur on Monday sent journalist Probir Sikdar to jail in a case filed under the Information and Communication Technology Act.
Judge of Faridpur Cognisance Court-1 M Hamidul Islam passed the order when police produced him before the court seeking 10-day police custody for him.
The court also fixed Tuesday for a hearing on both the remand on police custody and bail petitions.
Earlier, members of the Detective Branch of police picked up Probir Sikdar, the owner of online newspaper 'Uttaradhikar Ekattor News', from his Indira Road office in the capital on Sunday evening.
The detectives took him to the DB office at Minto Road in the capital for interrogation, citing he was feeling insecure.
Shortly afterwards, a case was filed with Kotwali Police Station of Faridpur against the journalist under the ICT Act.
Swapan Paul, adviser to the Puja Udjapan Committee of Faridpur, filed the case with Kotwali Police Station at about 11:00pm.
The plaintiff in his case statement said Probir in a Facebook status claimed to be under threat and that LGRD Minister Khandaker Mosharraf Hossain, Moosa bin Shamser and condemned fugitive war criminal Abul Kalam Azad would be responsible if he was killed, said police.
He termed the allegation against the minister false, saying the journalist posted the status to intentionally tarnish the image of the leader of the mass people.
Following the filing of the case, the DB handed Probir to Kotwali Model Police Station in Faridpur.
Probir Sikdar was the Faridpur correspondent of vernacular daily the Dainik Janakantha in 2001 when he wrote an article headlined 'Sei Razakar'.
He also lost one of his legs in a criminal attack. Later, he left Faridpur and came to Dhaka after the attack.
Meanwhile, journalists, free thinkers and family members of arrested journalist Probir Sikdar on Monday demanded his unconditional release immediately.
Addressing a rally in front of the Jatiya Press Club, they urged Prime Minister Sheikh Hasina to give necessary directives for his release and warned to go for a tougher movement if their demand is not met within the next 24 hours.
General Secretary of Dhaka Union of Journalists (DUJ) Quddus Afrad, Probir's wife Anita Sikdar, senior journalists Anjan Roy, Anis Alamgir and Ganajagaran Manch organiser Kamal Pasha, among others, spoke at the rally.