MoU signed between DAE and Save the Children Int'l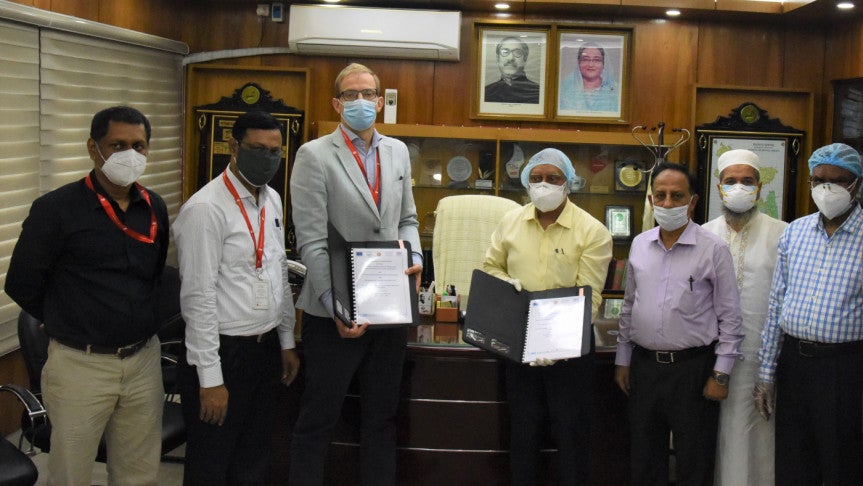 A signing ceremony between Save the Children International (SCI) and Department of Agricultural Extension (DAE) under Ministry of Agriculture was held on 12 July at Directorate of DAE to for collaboration towards implementation of Suchana program funded by DFID and EU.
The Director General Krishibid Md. Addul Muyeed, Ph.D and Country Director of Save the Children Onno van Manen signed the MoU from the respective organisations.
The Director General of DAE expressed his deep satisfaction of overall Suchana Programme's activities and performance referring his last visit to Suchana programme at Sylhet and Moulvibazar. In his speech, he mentioned that, Food Security is a very important issue during the COVID-19 situation. During COVID-19 pandemic, there is a potential rise in food insecurity, in response to that, Bangladesh Government took special initiatives to keep agricultural activities running to prevent shortage of supply of essential food items and also extended massive support to small holder farmers across the country to keep continuing growth of diversified crops and vegetables following the seasonal calendar. Referring to his visit, he mentioned that, Women and children are engaged in homestead gardening whether government also aims to promote homestead gardening and utilize every single inch of land. DAE is deeply eager to work together with Save the Children very closely. The Director General also appreciated for introducing the Sac Bag for wet lands for growing crops and vegetables in the Sylhet region.
Country Director of Save the Children Onno van Manen expressed his sincere thanks to DG for the continuous and consistent support to Save the Children. He stated that, being a very new person to this country, he learned that DAE's presence and support is very remarkable specially during the ongoing COVID pandemic. Save the Children continued very robust efforts and employees were very actively continued the efforts for the beneficiaries. This MoU endorses the committed efforts and supports from the either parties and the coordination level will reach to such height. The ongoing continued efforts will help increasing agricultural production, which will reduce poverty, food insecurity and increase access for poor, children, adolescents and mothers. Mr. Onno expressed his sincere thanks for the worthy support from DAE.
Among others, Interim Deputy Country Director of Save the Children Shamim Jahan Spoke on the occasion and expressed that, Save the Children has been working in Bangladesh for last 50 years for the overall development in Health, Education, Nutrition, Child Rights, Protection as a key catalytic partner of the government of Bangladesh. Atiar Rahman, Adviser, GoB relations, Suchana program explained the Background of MoU between DAE and Suchana.
The programme was chaired by Md. Shahabuddin, Director-Planning, DAE and the program were concluded with Vote of Thanks by Sheikh Shahed Rahman, Chief of Party, Suchana Programme of Save the Children International.