No new coronavirus case reported in last 24 hrs: IEDCR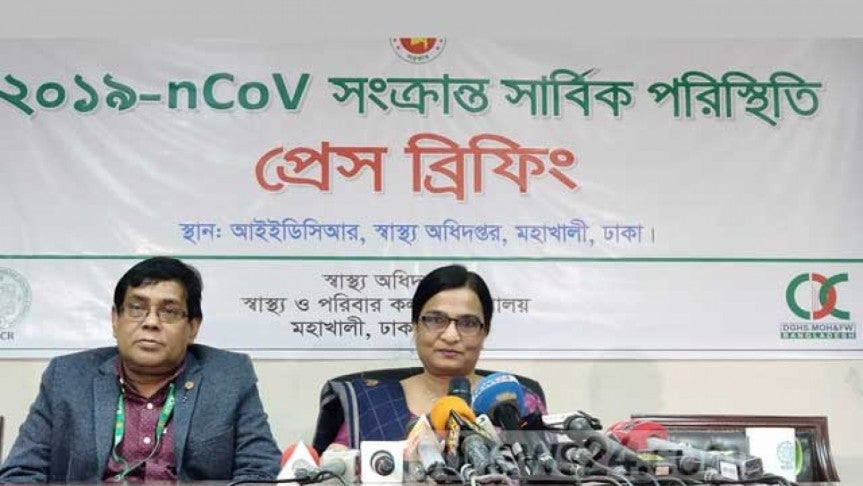 Urging people not to panic over coronavirus, Director of the Institute of Epidemiology, Disease Control and Research (IEDCR) Prof Meerjady Sabrina Flora on Monday said no new case of coronavirus infection was reported in the country in the last 24 hours till Monday morning.
"We've tested samples collected from four people yesterday and none of them were found positive so the total number of infected patients remains three," she said.
Dr Flora came up with the information at a press briefing at IEDCR in the city's Mohakhali area.
The IEDCR Director also mentioned that they received over 500 calls through IEDCR hotline numbers till 5 pm on Sunday.
"We received 509 calls through hotline numbers till 5pm on Sunday after the announcement of first three cases of coronavirus infection in the country.  Of those calls, 449 were related to coronavirus," she said.
Dr Flora also mentioned that many people are unable to connect the hotline numbers due to overload.
"Eighteen people have visited IEDCR and blood, salivary and sweat of four people have been tested," she added.
Dr Flora said the samples of four people have been tested so far but all those found coronavirus negative.
She also urged the families of the returnees from different affected countries to cooperate with them in keeping him or her quarantined for 14 days as a precaution.
"We should remain cautious that they aren't neglected or forced to leave their home. If that happens and they meddle in public it might spread rapidly...I urge you all to ensure that it does not happen," she said.
Dr Flora further urged the media not to disturb the three Covid-19 patients and their families.
"I urge all the friends of media not to leak any information regarding the identification of the patients...among the 449 calls there have been complaints from the families of patients that their neighbourhood have been surrounded by unwanted visitors and local media people...It's a matter of sorrow and I request you all to stop it," she said.
The first three coronavirus infected patients were detected in Bangladesh on Sunday. The infected patients include two men and one woman, and all of them were kept in quarantine.