Tree plantation program inaugurated in Chakaria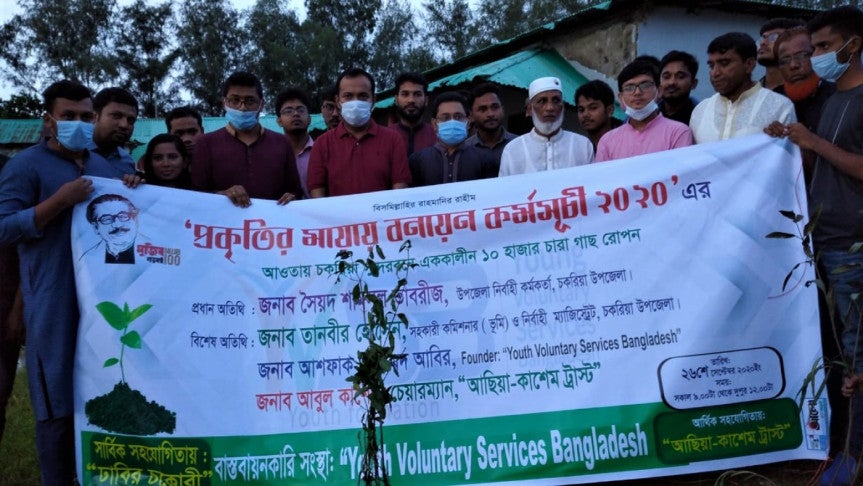 Youth Voluntary Services Bangladesh and Asiya-Kashem Trust jointly inaugurated 'Prokritir Mayay Bonayon Kormosuchi 2020' by planting 10 thousand saplings in the Chakaria Upzazila, Cox's Bazar.  
As a chief guest, Syed Shamsul Tabriz, UNO of Chakaria Upazila inaugurated the tree plantation program at Magnama Para, 5 no, Badarkhali Union of Chakaria Upazila.
Speaking as a chief guest, the UNO said, the whole world is upset by the effects of climate variability. Furthermore, he called upon the youth and the educated community to come forward in such tree planting programs.
Among the other special guests, Ashfaque Ahmed Abir, co-founder of the Young Voluntary Services Bangladesh, said through a virtual presence, "Youth Voluntary Service Bangladesh, a voluntary platform work for social development lead by the university students of Bangladesh. Youth Service Bangladesh will always be there for this kind of initiative."
Assistant Commissioner (Land) Tanveer Hossain shared, "The importance of planting trees to protect against natural disasters is immense for us. Trees must not be cut down and the government will have zero tolerance for cutting down trees."
"Their collaboration will stay solid for good cause in future too," added as a concluding note by the Chairman of Asiya-Kashem Trust Alhaj Abul Kashem.
Due to the Covid-19 pandemic, a short program was organized maintaining the Covid-19 health measures.
Among other guests, Ragib Hassan, Founder of Youth Express Bangladesh, honored the program by being present.
This plantation program was also supported by the student forum of Dhaka University students of Chakaria, Cox's Bazar.