Investcorp eager to invest in Bangladesh, its head tells PM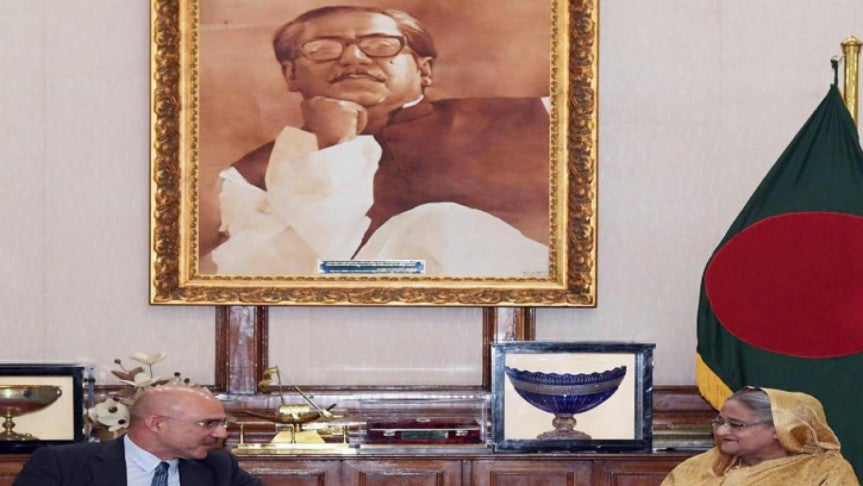 Dhaka: Investcorp, one of the global largest and most diverse alternative investment managers, is keen to make investment in Bangladesh for mutual benefits.
Executive Chairman of Investcorp Mohammed Bin Mahfoodh Alardhi expressed the willingness when he met Prime Minister Sheikh Hasina at her official residence Ganobhaban, reports the UNB.
PM's Press Secretary Ihsanul Karim briefed reporters after the meeting.
Mohammed Alardhi said the Investcorp had largely been interested to invest in European countries so long. But the global investment group is now very much keen to invest in countries like Bangladesh in the Asian region, he said, adding that Bangladesh is a homogeneous country having investment potential.
The Investcorp executive chairman highly appreciated Bangladesh's socio-economic development under the visionary and dynamic leadership of Prime Minister Sheikh Hasina.
In reply, the Prime Minister said the investment climate in Bangladesh is very good and there are huge opportunities for investment and big market in the country.
Pointing out the success stories of Bangladesh in social development, she said the main objective of her government is now to develop the country on all fronts.
Sheikh Hasina said Bangladesh is now moving forward to achieve the desired goals. The poverty rate has now come down to 20 percent, while that of extreme poverty to 11 percent, she added.
She said the government has already identified homeless and landless people for their rehabilitation.
About the education sector, the Prime Minister highlighted that nearly 350 million textbooks are distributed free of cost among 40 million students at the primary and secondary levels at the very beginning of every year.
When the Investcorp executive chairman raised the issue of Jihadi extremism, the Prime Minister said Jihad (fight) should be against the common enemy of the region which is poverty.
In this regard, Sheikh Hasina said communal harmony exists in Bangladesh as the people of all religions, including Muslims, Hindus, Christians and Buddhists, are living here in peace and harmony.
PM' Private Industry and Investment Adviser Salman F Rahman, Principal Secretary Md Nojibur Rahman and Executive Chairman of Bangladesh Investment Development Authority (Bida) Kazi M Aminul Islam were present.