CEC not allowing Armed Forces to work independently: BNP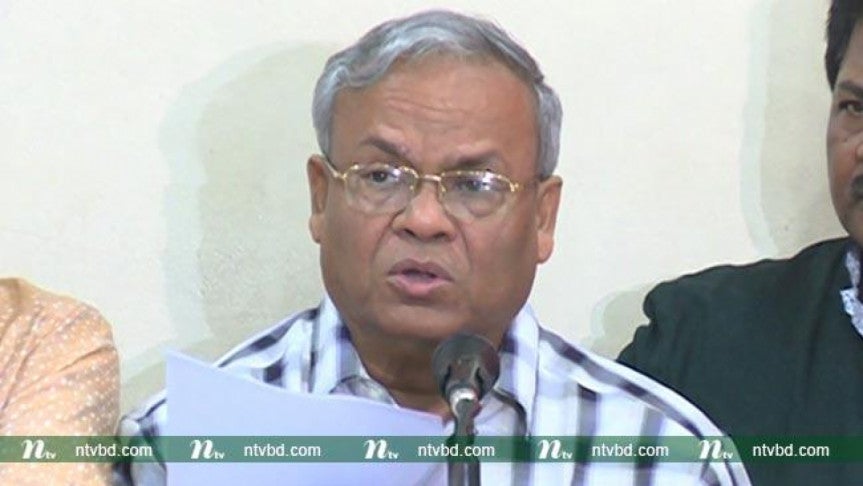 Dhaka: BNP on Friday alleged that Chief Election Commissioner KM Nurul Huda is not allowing Armed Forces to work independently.
'Law enforcers and ruling party cadres obstructed the processions of Sheaf of Paddy at different parts of the country yesterday (Thursday). They're forcing BNP candidates' agents and their supporters to leave their areas. A scary situation has been prevailing everywhere as armed Awami League cadres are staging showdown at every village,' said BNP senior joint secretary general Ruhul Kabir Rizvi, reports the UNB.
Speaking at a press conference at party's Nayapaltan central office, he further said, 'The Chief Election Commissioner has tied up the army after rolling them out in the field. They're not allowed to work independently. Everything is happening under the supervision of the Chief Election Commissioner at the behest of the Prime Minister.'
Reacting to Thursday's remarks of Prime Minister Sheikh Hasina that BNP is planning to unleash acts of sabotage sensing its defeat in the election, Rizvi said,'Awami League has its own training centre for anarchy. The ruling party and the government are the safe haven of terrorism.'
He asked Sheikh Hasina as to who attacked the motorcade of BNP secretary general Mirza Fakhrul Islam Alamgir, and party leaders, including Moudud Ahmed, Dr Abdul Moyeen Khan, Gayeshwar Chandra Roy, Afroza Abbas, Shahid Uddin Chowdhury Anee, Romana Mahmud, Habibur Rahman Habib and others. 'BNP leaders and activists are being driven off their houses through arbitrary arrests. The nation wants to know from you (PM) who committed these.'
The BNP leader, however, said there will be a vote revolution on Sunday even after all this.
He alleged that law enforcers and Awami League 'cadres' vandalised the houses of BNP leaders and activists across the country in the name of drives, and arrested huge party men.
Rizvi claimed that some 10,329 BNP were arrested, 844 'fictitious and false' cases filed and 2,896 attacks carried out, 13,252 injured and nine party men were killed till Thursday since the announcement of the election schedule.
He also said 38 'false' cases were filed since Thursday and 1,127 BNP men were arrested during the period.