Kazi Riton produces movie with Shakib Khan in USA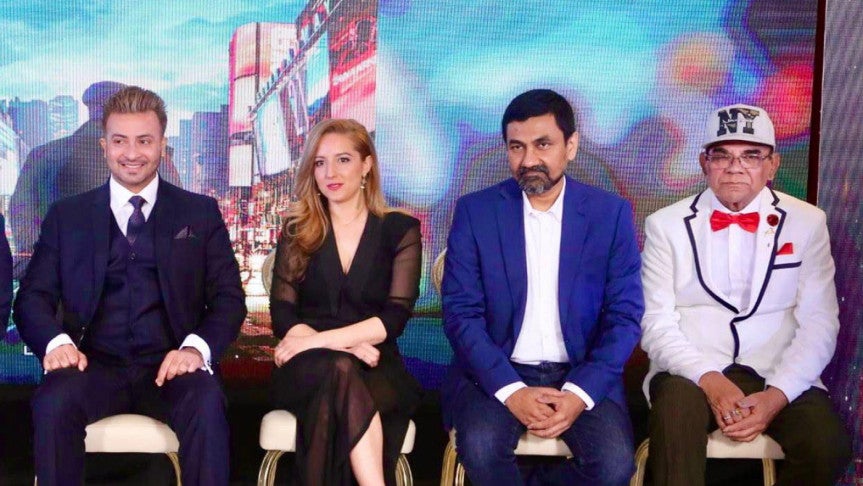 This is Shakib Khan's first visit to the US soil. And there he has found a US heroine. Many of you have already known that the superstar of Dhallywood is producing his own movie while being in the US. The name of the film is 'Rajkumar'.
On 28 March, name of the heroine of that very film was announced at a convention center in New York, where the debutant actress Courtney Coffey was introduced through the ceremonial beginning of the movie.
The first motion poster of the film was also released in that ceremony. Shakib informs that, Courtney Coffey is born and raised in the US. She has been cast in the film only after completing various continuous stages and a rigorous audition.
The film will be produced under the banner of Shakib Khan's own production company SK Films. Kazi Riton and Zakaria Masood are the co-producers of the film. One of the producers, Kazi Riton says, 'We are fortunate that around 350 million people of the world speak in the language of ours. Bengali is the fifth most-spoken native language in the world. Bengali speaking people live all around the world. Bengali people live everywhere from Dhaka to New York, Kolkata, California, Sydney, Dubai, Kuala Lumpur and so on. The countless Bengali people have a thirst for entertainment. That's why we're going to make our new film 'Rajkumar'.
Shakib Khan, the King Khan of Bengali cinema, is trying every moment to transform the perspective of Bengali cinema. With that purpose, we've been involved in this film 'Rajkumar'. I'm delighted and proud to be a part of this film. The people speaking Tamil, Telugu or Malayalam are much less than those speaking Bengali. Then why should we stay behind? For this reason, this film is our new endeavor.
I thank Shakib for transmitting his intense desire for quality movies into myself. We two countries, Bangladesh and the US, are going to make such a film together, that the new generation will watch Bengali movies with attention. Let us all come together and take forward the Bengali movie to a bright future.'
Earlier, Kazi Riton has been the co-producer of the film 'Hridoyer Kotha', and the producer of short film 'Fera'. The film 'Rajkumar' will be helmed by director Himel Ashraf. It has been reported that the shooting of the film will start on the second week of the coming July. It will be filmed at various locations of the United States, including New York, Los Angeles and Miami Beach. The film 'Rajkumar' is slated to receive a wide release in the US, Canada, Middle East and Australia.