GP subscribers get free Wikipedia access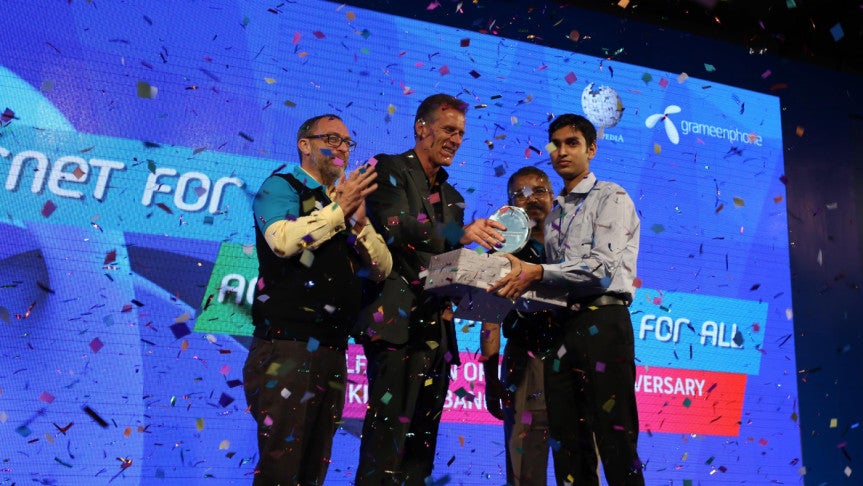 Grameenphone has announced free Wikimedia mobile site access for all its customers, according to a GP press release.
The biggest mobile operator of the country made the announcement on Thursday at the joint Wikimedia Bangladesh-GP gala event marking 10 years of Bengali Wikipedia, and the finale of the nationwide Wikimedia Bangladesh and GP content development competition at a Hotel Radisson in Dhaka.
The gala event featured Wikipedia founder Jimmy Wales, Grameenphone chief marketing officer (CMO) Allan Bonke, and Wikimedia Bangladesh representative Munir Hasan.
Allan Bonke also announced that Wikimedia mobile sites (m.wikipedia.org) would be accessible free of data charges for all GP subscribers, for a rich knowledge experience.
As part of the joint competition, representatives from Grameenphone and Wikimedia Bangladesh visited seven regions and ran sessions for students, providing practical guidance on how to edit Wikipedia and inspiring them to edit Wikipedia. In all, 400 students participated in the competition, of which 21 from seven regions were recognized at the gala event.
The top 10 winners of the competition were recognized for their contribution with a special commemorative crest and a certificate. The top three winners were also presented a MacBook Pro, an HP Laptop, and an iPad Air respectively for their contributions.
Wikipedia founder Jimmy Wales said: 'It gives me huge pleasure to be part of the 10 year celebrations of Bengali Wikipedia, and to celebrate the amazing efforts of so many people - Wikipedians, Grameenphone and Wikimedia Bangladesh - to increase access to knowledge for everybody.'