Explore potentials in newer areas in Bangladesh: PM to Japanese investors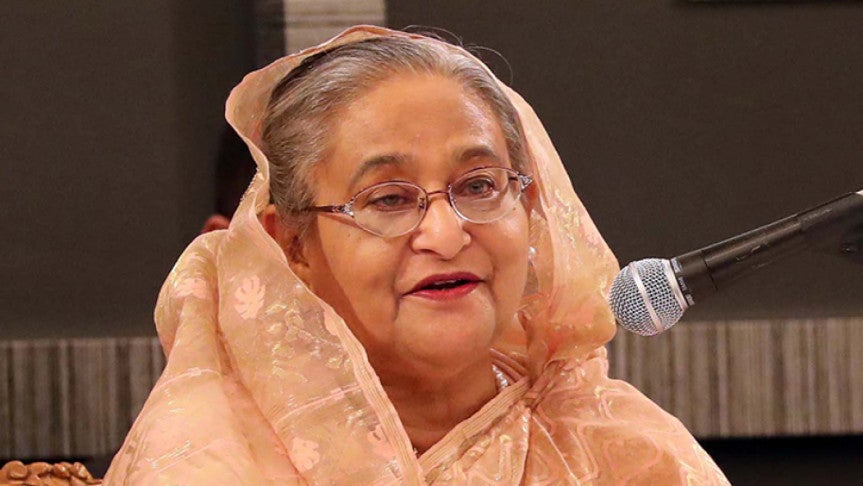 Prime Minister Sheikh Hasina on Wednesday called upon the Japanese business community to explore newer areas for investment in export-oriented sectors of Bangladesh to unlock the full potentials of business and trade relations between the two friendly nations.
'I invite you to explore the full potentials of business and trade relations with Bangladesh. Given the excellent bilateral relations and understanding that exist between our two leaderships, and the tremendous goodwill prevails between our two peoples, let's lift the business relations to a higher level,' she said, the UNB reported.
 The Prime Minister made the call while speaking at the Bangladesh-Japan Business Forum roundtable with CEOs at Hotel New Otani here.
Sheikh Hasina said Bangladesh is a fast-emerging, highly competitive location for investments in terms of cost, human resources, size of domestic market, and access to international markets, trade facilitation, and investment protection. 
'We welcomed the investment to the tune of 1.4 billion dollars made by Japan Tobacco last year. We wish to see more such investments from Japan,' she said.
Hasina said the success of readymade garments of Bangladesh sector is globally known as the country is the second largest RMG exporter in the world after China. 
The Prime Minister said apparel is the number one export product to Japan. In 2018, it achieved the highest growth, by almost 33.5 percent in volume, surpassing all other competitors, she added.
'We would, however, like to see diversification in our export basket. I would call upon you to explore newer areas for investment in export-oriented sectors in Bangladesh,' she said.
The Prime Minister said Bangladesh is now a major global hub for quality medicine as it is exporting medicines to more than 100 countries, including the USA, the UK, Australia and Africa.
She said shipbuilding has drawn global attention by producing world-class ocean-going vessels. Bangladeshi companies have provided passenger and cargo ships to 14 countries, including Europe. 
She mentioned that software is yet another promising industry in Bangladesh. Among 800 Software and IT companies of Bangladesh, over 150 are specialised in serving overseas' clients. 
Hasina said more than 20,000 Bangladeshi IT professionals are working in various reputed IT companies all over the world, including in Microsoft, Intel, IBM, Oracle and Cisco. 'I'm informed that ITES (IT-enabled services) products appear to have promising prospects in the huge Japanese IT market.'
The Prime Minister said Bangladeshi agro-based products, Jute goods, home appliances, light engineering products, leather products, pharmaceuticals, and electronic gadgets are making a mark in the world market. 
'With environmental concerns growing globally, bio-degradable jute and substitute jute products from Bangladesh render huge potentials,' she added.
Hasina said private sector is the main engine of Bangladesh's economy and the government attaches top priority to entrepreneurship development and private investments, both domestic and foreign. 
She said the government is establishing 100 Special Economic Zones throughout the country, including one exclusively for Japanese investors at Araihazar.
'Bangabandhu Sheikh Mujib Shilpanagar in Chattogram has a plenty of land for establishment of Economic Zones under G2G basis and Public Private Partnership model. We've also taken Moheshkhali-Matarbari Integrated Infrastructure Development Initiative (MIDI) for Logistic hub, Power and Energy hub and Water front Industry hub. Japan may support these initiatives.'
The Prime Minister said the government has also taken initiatives to set up IT parks. Two Software Technology Parks are in operation and 26 High-Tech Park/Software Technology Park are under construction.
'We've one of the most liberal foreign investment regimes in South Asia. And these include, among others, protection of foreign investment by law, generous tax policy, and concessionary duty on import of machinery. We also offer 100 percent foreign equity, unrestricted exit, full repatriation of dividend and capital. We enjoy preferential access to most of the leading world markets, including the EU, Canada, and Japan.'
She said Bangladesh is now the second largest economy in South Asia and 41st in the world in terms of nominal GDP. This year, the GDP growth is poised to hit a record 8.13 percent. And if the current trend of growth continues, Bangladesh will attain double-digit growth rate soon.
'And I'm happy to note that we're moving steadily towards realising this goal. We're on the right track to reach our goals to become a middle-income country by 2021 and a developed one by 2041,' said the Prime Minister.
Finance Minister AHM Mustafa Kamal, FBCCI President Sheikh Fazle Fahim, BGMEA President Rubana Huq and Chairman of Summit Group Muhammad Aziz Khan Summit Power Aziz Khan spoke at the function moderated by Bangladeshi Ambassador in Japan Rabab Fatima.
Among Japanese businessmen, chairperson of Japan Bangladesh Committee for Commercial and Economic Cooperation (JBCCEC) Teruo Asada, JICA executive senior vice-president Kazuhiko Koshikawa, JETRO president Yasushi Akahoshi, Sumitomo Corporation president and CEO Masayuki Hyodo, Mitsui and Co Ltd the executive vice president Shinsuke Fuji, Sojitz Corporation Senior Managing executive officer Ryutaro Hirai, Mitsubishi Motors vice-president Ryujiro Kobashi, Honda Motor Co Ltd managing officer Noriaki Abe and Maruhisa Co Ltd president Kiminobu Hiraishi spoke on the occasion.
 Briefing reporters after the programme, PM's speech writer Md Nazrul Islam said the Japanese business entrepreneurs put emphasis on the safety and security of their staff in Bangladesh.
In reply, the Prime Minister ensured about their safety and security.
She expressed deep condolence for the victims of holey artisan incident and conveyed sympathy to the affected families.
The Japanese businessmen highly appreciated the Prime Minister for the robust growth of business and economy in Bangladesh under her leadership.
They also praised the government policies for flourishing business in Bangladesh.   
Currently, some 280 Japanese companies are now there in Bangladesh.