MoneyGram extends partnership with EZ Money to expand Malaysia footprint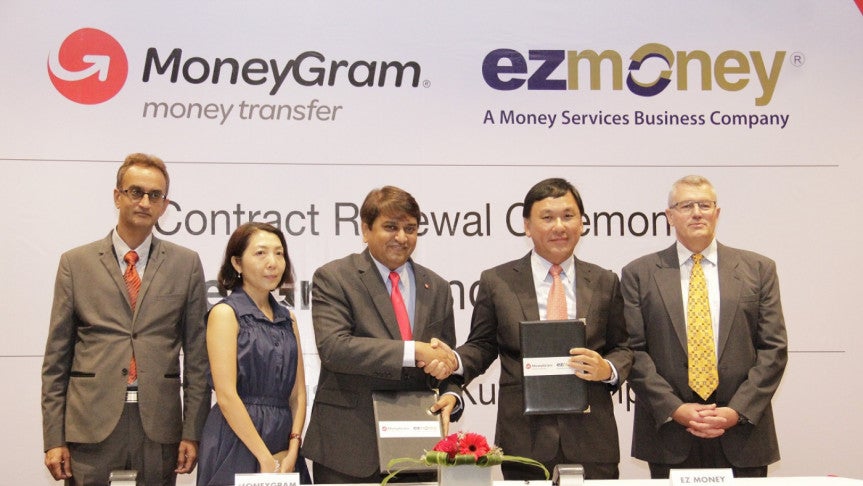 MoneyGram, a global leader in omnichannel money transfer and payment services, is extending its partnership with EZ Money Express Sdn Bhd, its largest partner in Malaysia, to reach out to more customers in Malaysia.
MoneyGram head of Asia Pacific & South Asia Yogesh Sangle said immigrants represent 15 per cent of the total workforce in Malaysia and they offer opportunities for the world's second-largest money transfer and payment services provider to expand its base in the country and support EZ Money's expansion in Peninsular Malaysia.
EZ Money, a money services business company based in East Malaysia, is aiming to tap Peninsular Malaysia's market through partnerships, and has sealed a master collaboration agreement with MBE Business Corporation Sdn Bhd, the world's largest franchise network of retail shipping, postal, printing and business service centre, to provide its remittance services at all participating MBE outlets in Malaysia.
"For Malaysia, last year RM38 billion worth of money was sent out from the country while RM11 billion came into the country, in both of which MoneyGram played a significant part, and we expect that the growth rate to increase," he said after the signing of the contract agreement here on 1 August.
Sangle said the contract extension would ensure the availability of MoneyGram's service at EZ Money branches and agent locations.
"Malaysia is very important for us in terms of the sent market as well as received market. We have almost 100 countries sending (money) into Malaysia and people here also sent money to more than 100 countries," he said.
Besides EZ Money, MoneyGram also partnered with CIMB Bank and Maybank, as well as small remittance players in Malaysia.
"Our commitment to this region remains unchanged and we are proud to continue our work with EZ Money as we keep a focus on accessibility, convenience and financial inclusion for the communities in this essential market," he added.
Meanwhile, EZ Money chief executive officer Lim Ching Seng said a substantial number of EZ Money customers utilising MoneyGram to send out money were migrant workers in East Malaysia.
Lim said 120,000 transactions worth RM120 million were done through MoneyGram last year from overall 600 million transactions across East Malaysia.
"With this contract renewal, EZ Money will be rolling out money service business (MSB) agent programme in West Malaysia with large retail organisations and other entities," he said.
He said EZ Money was also waiting for Bank Negara Malaysia's approval to provide services at all participating MBE outlets.
"MBE has (present in) 105 locations and planning to go to 300 locations in two to three years. So, we are working with them to provide services in most of their locations," he said, adding that it had started partnerships with appointed agents to operate in four locations -- Ipoh, Kepong, Puchong and Berjaya Times Square.
The new partnership till the year 2024 is the third contract extension sealed between MoneyGram and EZ Money.