Dhaka, Delhi sign 7 bilateral documents; 3 projects inaugurated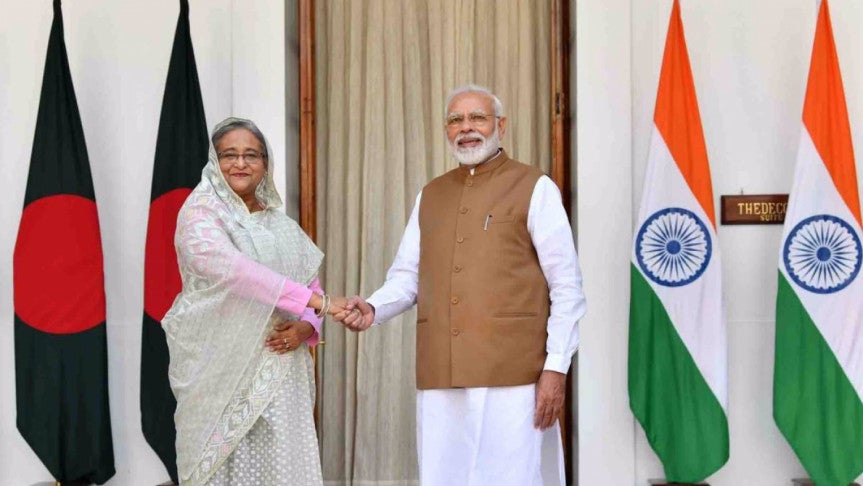 New Delhi: Bangladesh and India on Saturday signed seven bilateral documents to take the relations between the two countries to the next trajectory.
The documents were signed after a bilateral meeting between Prime Minister Sheikh Hasina and her Indian counterpart Narendra Modi at Hyderabad House here, the UNB reported.
The two leaders witnessed the signing and exchange of the documents – six of which new while another is renewal.
Earlier, a tete-a-tete was held between the two leaders just before the meeting.
Hasina and Modi also jointly inaugurated three bilateral development projects.
The bilateral meeting will be followed by lunch at Hyderabad House.
Earlier in the morning, Indian External Affairs Minister Dr S Jaishankar had a "warm conversation" with Prime Minister Sheikh Hasina and reaffirmed India's "highest priority" to her relations with Bangladesh.
Foreign Minister Dr AK Abdul Momen, State Minister for Foreign Affairs M ShahriarAlam, Bangladesh High Commissioner to India Syed Muazzem Ali and Indian High Commissioner to Bangladesh Riva Ganguly Das were present.
Prime Minister Hasina will also meet Indian President Ram NathKovind at RashtrapatiBhavan at 4:30pm.
Prime Minister Sheikh Hasina reached New Delhi on Thursday morning and joined the World Economic Forum (WEF) Summit.
Welcoming Prime Minister Sheikh Hasina in New Delhi, India on Thursday described its relations with Bangladesh as a "relationship of utmost priority".
"A relationship of utmost priority," Indian Ministry of External Affairs (MEA) tweeted sharing the photos of Prime Minister Hasina's arrival in New Delhi as part of her official visit.
The MEA also said Bangladesh and India share "multifaceted relations" which go far beyond the strategic partnership.
She is scheduled to return home on Sunday.