Woman, expatriate tortured in Lakshmipur for 'illicit affair'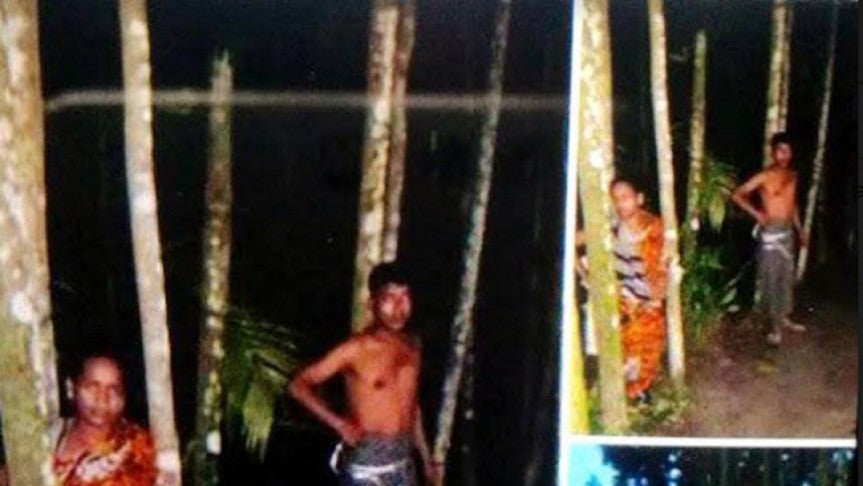 Lakshmipur: A woman and an expatriate were tortured mercilessly allegedly by a union council chairman and his aides on allegation of illegal affair between them at Fatehpur village in Ramganj upazila of Lakshmipur.
Witnesses said the supporters of Kamal Hossain Bhuiya, chairman of Chandipur Union and Faruk Hossain a member of Fatehpur ward, picked up Sabuj, in his twenties, a Saudi expatriate, who returned home one month back, while he went out of his house early on Wednesday and tied him up with a beetle-nut tree.
They also swooped on the house of Rahman and dragged his wife Parul Akter, around 25 years old, out from the house and took her to the beetle nut garden and tied her up with another tree.
Later, they beat them up mercilessly for six hours and forced them to walk around the village tying a rope around their waist.
The UC Chairman and his supporters took signatures of both on four blank stamp papers and white papers and took Tk 2 lakh on bond for settling the issue.
Contacted, Tota Mia, officer-in-charge of Ramganj Police Station, said 'I have no idea about the incident as none lodged any complaint in this regard.'
The mobile phone of UP chairman Kamal Hossain was found switched off.