Bangladesh has no plan to give refugee status to Rohingyas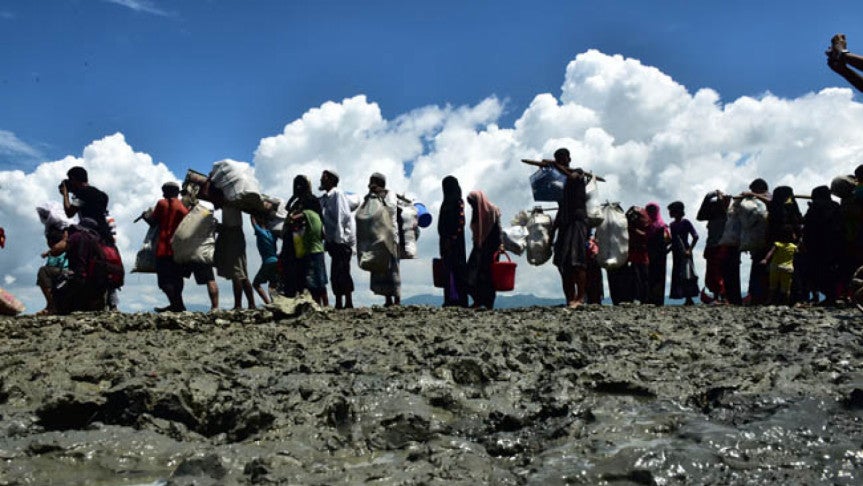 Dhaka: Bangladesh Industries Minister Amir Hossain Amu on Sunday said the Bangladesh government does not have any plan to give any 'refugee status' to Rohingays.
The minister came up with the announcement while talking to reporters after a meeting of the cabinet committee on law and order at the secretariat.
Steps will be taken so that Rohingya refugees cannot leave the camps they have been staying and mix with Bangladeshi citizens, he said.
Asked about a recent report in India media over the killing plot of Prime Minister Sheikh Hasina, the minister said they have not found any authenticity of the incident.
Some 4.5 lakh Rohingyas have already entered Bangladesh fleeing persecution in Myanmar, said Amu adding 12 makeshift camps have been set up to provide shelter to the Rohingya refugees and more will be constructed.
A vested quarter has been trying to destroy the communal harmony in the country centering the Rohingya crisis ahead of Durga Puja, the minister said.
The government has taken necessary preparations so that the Hindu community can celebrate Durga Puja with enthusiasm, he added.
Replying to a query, the minister said plying of all types of vessels in the Naf River will be banned to stop drug smuggling through the border.
Home Minister Asaduzzaman Khan, Law Minister Anisul Huq, Shipping Minister Shahjahan Khan and State Minister for Labour and Employment Mujibul Haque, chiefs of several law enforcing agencies were present at the meeting.