109th Jabbar er Boli Khela
Tarequl Boli emerges as new champion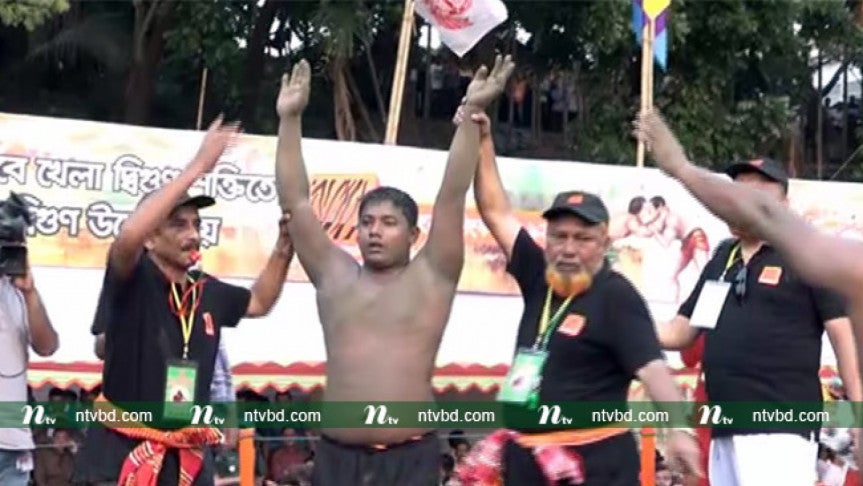 Chattogram: Tarequl Islam Jibon Boli clinched the title of the 109th edition of Chattogram's traditional wrestling competition, popularly known as 'Jabbar er Boli Khela', at the city's Laldighi Maidan on Wednesday.
Taraqul Islam Jibon Boli, hailing from Chakaria upazila in Cox's Bazar, emerged victorious in the competition after defeating Shah Jalal Boli of Cumilla. It took Jibon 20 minutes to prevail against Shah Jalal in the final.
Earlier Tarequl Boli of Chakaria earned his shot at bringing down Shah Jalal in the final by defeating Joynal Abedin Boli of Comilla
Chittagong City Corporation Mayor AJM Nasir Uddin, attending the competition as chief guest, awarded the trophies and prize money to the champion and runner-up.
Earlier, Didar Boli, hailing from Ramu in Cox's Bazar, clinched the title of the 108th 'Jabbar-er Boli Khela' last year in what was his farewell appearance, his 13th title in a career spanning 15 appearances at Laldighi.
The 'Boli Khela' was introduced in the early 20th century by Abdul Jabbar Saodagar. His desire was to cultivate a sport that would prepare youths to fight against the British rule – a form of self-defence without weapons. 
The first competition was held in 1909. The traditional form of wrestling was named after the name of Jabbar.
Meanwhile, a three-day Baishakhi fair began Monday in and around the Laldighi Maidan on the occasion of the 'Boli Khela'.