PM to flag off campaign from Gopalganj today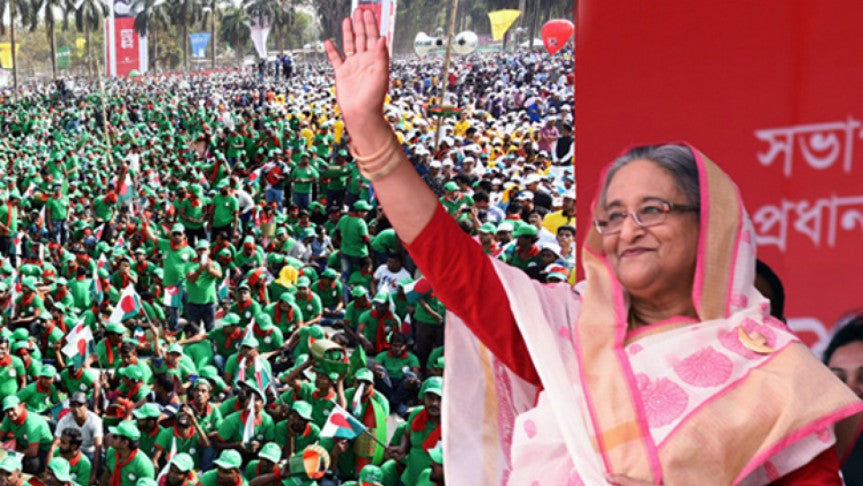 Dhaka: Awami League President and Prime Minister Sheikh Hasina left Dhaka for Gopalganj on Wednesday to kick off her party's election campaign.
She started her journey by road around 8:22am from her official residence Ganobhaban.
Prime Minister and Awami League President Sheikh Hasina will begin election campaign from Gopalganj on Wednesday paying tributes to Father of the Nation Bangabandhu Sheikh Mujibur Rahman.
She will begin her campaign by placing a wreath at the mazar of Bangabandhu and offering fateha there at 12:30pm on the day, official source said, reports the BSS.
The Awami League president will address a public rally at the Sheikh Lutfar Rahman Government Degree College ground at Kotalipara in the district at 2:30pm.
On December 13, on her way back to Dhaka, the AL president will join rallies and election campaign at Faridpur's Bhanga and Faridpur intersection,
Rajbari intersection, Paturia ferry ghat area, Manikganj bus stand, Rabeya Medical College Hospital ground and Savar bus stand in Dhaka.
AL Joint General Secretary Abdur Rahman announced the programmes at a press conference at the party president's Dhanmondi political office in Dhaka on Wednesday afternoon.
AL Joint General Secretary Jahangir Kabir Nanak, Organising Secretaries Ahmed Hossain, AFM Bahauddin Nasim and BM Mozammel Haque were present at the press conference.
About writ petitions for BNP Chairperson Begum Khaleda Zia, Abdur Rahman said, 'Three writ petitions were lodged aimed at misleading the High Court to create scopes for corrupt Begum Khaleda Zia to join the polls.'
He said as per the existing law, Khaleda could not join polls or politics. About the eligibility or ineligibility is specially mentioned in article 66 of the Constitution, he added.
Rahman said it is matter of sorrow that BNP is spreading falsehood and resorting to ill politics over the verdicts given on the writ petitions.
'Realising its certain defeat in the upcoming parliamentary election, BNP is now looking for excuses for leaving the polls by hatching different conspiracies,' Rahman said.
The AL leader urged BNP to join their election campaign shunning the ill politics.
Rahman said the people will give their verdict in the election slated for December 30 through ballots against the BNP-Jamaat evil forces.
Earlier, Jahangir Kabir Nanak on Tuesday said election manifesto of Awami League will be announced after the Victory Day on December 16.