Polls violence leaves 7 dead so far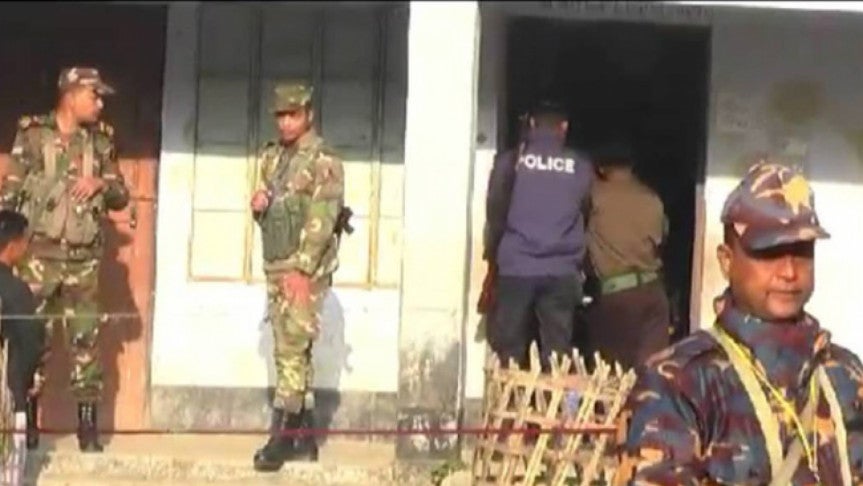 Seven people were killed in election-related violence in Rangamati, Chattogram, Cumilla, Rajshahi, Natore and Tangail districts on Sunday, reports the UNB.
According to reports reaching the UNB news desk, a local Jubo league leader was killed in an attack allegedly by some BNP activists at Kashkhali union in Kaukhaliupazilaof Rangamati district in the morning.
The deceased was identified as Bashir Uddin, general secretary of Kashkhali union JuboLegue unit.
An altercation took place between some supporters of BNP and Awami League on Saturday night, SmrityBikash Tripura, RangamatiZilaParishad member.
As a sequel to the altercation, BNP men attacked Bashir and one of his followers while they were going to polling station in the morning, leaving them critically injured, he said.
Among the injured, Bashir died on the way to Chattogram Medical College and Hospital.
In Chattogram, a Jatiya Party activist was killed in a clash with Awami League men at Katharia in Banshkhaliupazila on Sunday morning.
The deceased was identified as Kabir Ahmed, 45,
Jatiya Party aspirant for Chattogram- 16 constituency MahmudChowdhury alleged that some leaders and activists of ruling Awami League and Jubo League tried to stamp seal on Boat symbol after capturing Baraitali government primary school polling centre on Saturday night.
As the JP activists tried to resist them, they opened fire on them, triggering a clash that left Kabir dead and several others injured.
Ballot boxes were stuffed in 20 polling centres in the constituency overnight, he claimed.
On information, police rushed in, brought the situation under control and recovered the body from the spot, said Kamal Hasan, officer-in-charge ofBanshkhali Police Station.
In Cumilla,Bachchu Mia, 35, a resident of Sundial village in Nangalkotupazila, was killed in a clash between the supporters of AL and BNP in the morning, said district police special branch sub inspector MahbubMorshed.
Besides, a rickshaw-puller,MuziburRahman, 35, son of Sujat Ali of Muradnagar village of the upazila, was killed in a clash between the activists of ruling Awami League and BNP men at PachhimBelashwar village in Chandianupazila.
In Rajshahi, Merajul Islam, 30, son of late AbdusSattar and an Awami League supporter, was killed in a clash between BNP and AL men in Pakuria Government High School centre in Jahanabad union of Mohonpurupazila around 11am over occupying a polling centre of Rajshahi-3 constituency, said Rajshahi district police superintendent Shahidullah.
In Tangail, police recovered the body of BNP ward unit president Abdul Aziz, 65, who remained missing since Saturday, from Nagda Shimla area in Gopalpurupazila .
In Natore, Hussain Ali, an Awami League supporter, was stabbed to death by his nephew Ratan Fakir following an altercation over casting vote at Samskholsi village in Naldanga upazila.
Shafiqur Rahman, officer-in-charge of Naldanga Police station, said that Hussain Ali and his nephew Ratan were supporters of Awami League.
Hussain and Ratan locked into an altercation as Ratan's wife cast her vote for 'Sheaf of Paddy' symbol.
At one stage, Ratan stabbed his uncle, leaving him critically injured.
The injured was taken to Natore Sadar Hospital where he died.