8 killed as truck ploughs through Khagrachhari crowd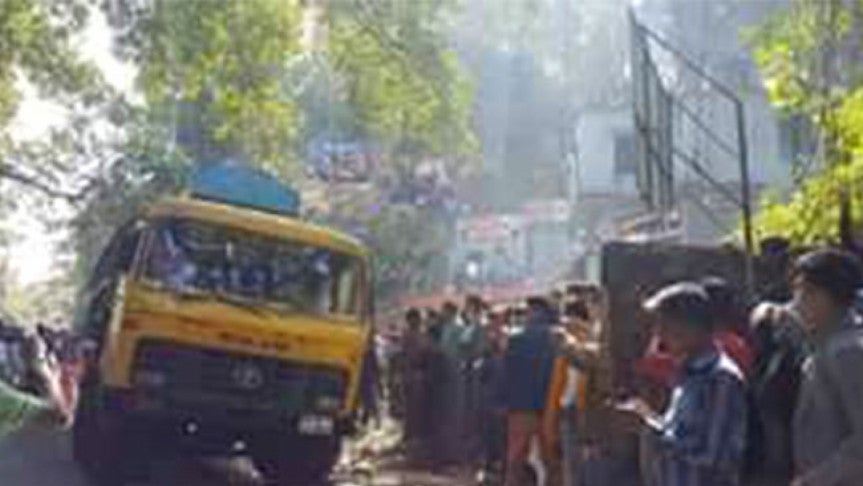 Khagrachhari: Eight people, including women and children, were killed and eight others injured as a truck ploughed through a crowd at Alutila in Khagrachhari on Friday morning.
The deceased were Neimra Marma, 40, Ukraching Marma, 6, Usanu Marma, 18, residents of Chourangchhari area, and Pulu Marma, 16, Sathoipro Marma, 14, Tuntuni Marma, 6, Ongkaching Marma, 18, and Boby Marma, 16, residents of Matiranga area.
Witnesses said over 1000 people gathered at Alutila Bihar to take part in the funeral of Bhadanta Chandramani Mahasthabir, a monk of Alutila Shangshak Nagar Buddhist Bihar, in the morning.  
Suddenly, a Khagrachhari-bound stone-laden truck from Chittagong ploughed into the roadside programme of the Buddhist community around 11:30am after its driver lost control over the steering, leaving seven people dead on the spot and nine others injured, said officer-in-charge of Matiranga Police Station Shahadat Hossain Titu.
On information, members of Fire Service and Civil Defence rushed in and rescued the injured.
Of the injured, Boby Marma died on the way to Chittagong Medical College Hospital.
The death toll from the fatal accident may rise further as the condition of two of the injured was said to be critical.
Meanwhile, police seized the truck and arrested its driver Mohammad Sumon, said Additional Police Super Salah Uddin.