Chuadanga road crash death toll climbs to 13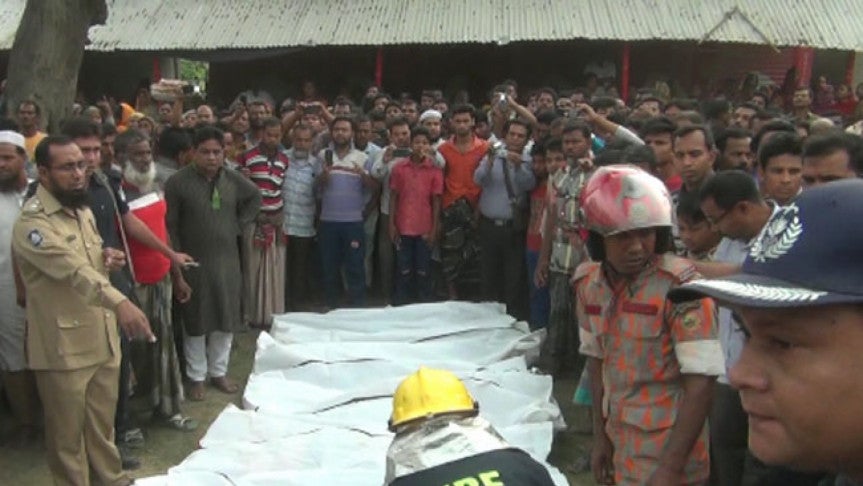 Chuadanga: At least 13 day-labourers were killed and 10 others injured in a fatal road accident at Joyrampur Battala on Chuadanga-Jessore road in Damurhuda upazila of Chuadanga early Sunday.
Eleven of the deceased were Billal, 45, Rafiqul, 50, Lal Mohammad, 45, Abdar Ali, 45, Billal Hossain, 39, Akubbar Mandal, 52, Ijjat Ali, 55, Nazir Uddin, 57, Shanto, 25, Hafizur Rahman, 35, and Shafiqul Islam, 40, Jaj Miah, 34, and Shahin, 31, residents of Boro Baldia village of the upazila.
The accident took place when a human hauler carrying 23-24 day-labourers collided with a sand-laden truck around 6:30am, killing eight of the labourers dead on the spot and the rest injured, said M Kalimullah, Assistant Superintendent of Police of Damurhuda Circle.
Fire-fighters from Chuadanga Fire Service and Civil Defence appeared at the spot and sent the injured to hospitals, said the ASP.
Two of the injured died at Sadar Hospital, one at Damurhuda upazila health complex while two others died on way to Rajshahi Medical College Hospital.
Agitated people of the area seized the truck and vandalised it but the truck driver managed to flee.
Saima Yunus, deputy commissioner of the district, said that the district administration will provide Tk 10,000 to the families of each deceased for burial and Tk 10,000 to each injured for treatment.