Police cordon off two 'militant hideouts' in Moulvibazar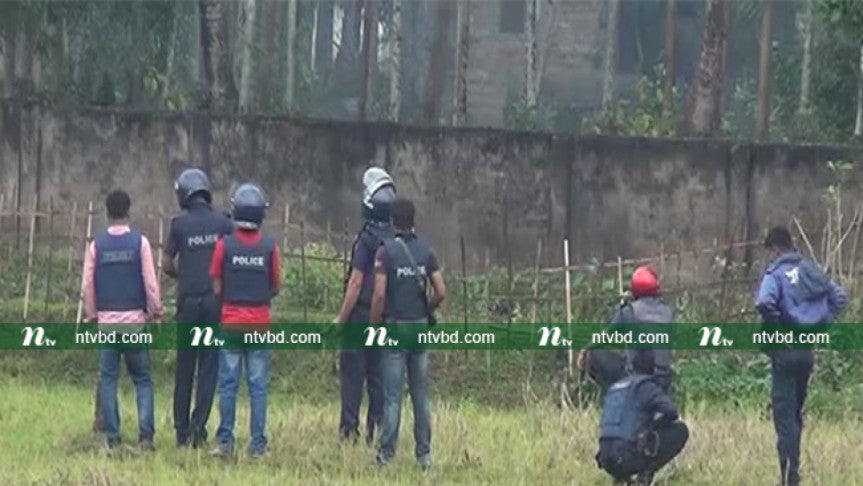 Moulvibazar: Nearly eight hours after Bangladesh Army officially called off its operation at 'Atia Mahal' in Sylhet City on Tuesday night, police cordoned off two houses at Barhat in Moulvibazar municipality area and Fatehpur village in Moulvibazar Sadar upazila early Wednesday, suspecting those to be militant hideouts.
Moulvibazar Model Police Station Officer-in-charge Abdus Salek said police encircled the houses at about 2:30am.
Masudur Rahman, Deputy Commissioner (Media) of Dhaka Metropolitan Police, said suspected militants at the house of Fatehpur village hurled grenades at the policemen. In retaliation, police also fired back several times, he added.
The residents of Fatehpur said they heard the sounds of gunshots several times.
Meanwhile, the local administration shut down all the educational institutions in and around the spots for ensuring the security of civilians, police said.
Members of Counter Terrorism and Transnational Crime (CTTC) unit also joined the police and Rapid Action Battalion (RAB) on the spots. A team of Special Weapons and Tactics (SWAT) also started from Dhaka.
Besides, police evacuated the residents of the area safely.
On the other hand, the local administration imposed section 144 in Barhat area and within a 2-km radius of the 'militant den' at Fatehpur.
Home Minister Asaduzzaman Khan said law enforcement agencies cordoned off the two 'militant dens' following intelligence information.
While talking to reporters at the Secretariat in the capital, he also said the militants were hurling bombs at the law enforcers from the dens.
"A Special Weapons and Tactics (SWAT) team is on their way to Moulvibazar. They will decide how drives will be conducted on the militant hideouts," he said, adding that army will be called in if necessary.
Police super of the district Mohammad Shahjalal said both the houses are owned by Saiful Islam, a Bangladeshi expatriate living in London. "Some 10-11 people reside in the two houses. Prima facie, it seems they have connections with each others."
Khalilpur union parishad chairman Arbinda Poddar Bachchu said the inmates of the Fatehpur house, some 20 km off the district town, rented it two months back.
A neighbour of the house said two male members, one female and a child are residing in the house but they hardly went outside the house since they rented the house.
Besides, the house located in Barhat is an under-construction building.
Raushonuzzaman Siddique, assistant superintendent of police, said a Belal identified himself as a manager of private company rented the house three months back.
Detectives identified the 'militant den' of Barhat keeping close watch on the house for three days and gathering information about the tenants.
Meanwhile, police arrested 11 from the Fatehpur village on Wednesday suspecting their involvement in militant activities, said the OC.
Earlier, 10 people, including four militants and two police officials, were killed and at least 40 people injured during the 83-hour long operation, 'Twilight', at Atia Mahal, said Army's Military Intelligence Director Brig Gen Fakhrul Ahsan.