PRAN products now available on daraz.com.bd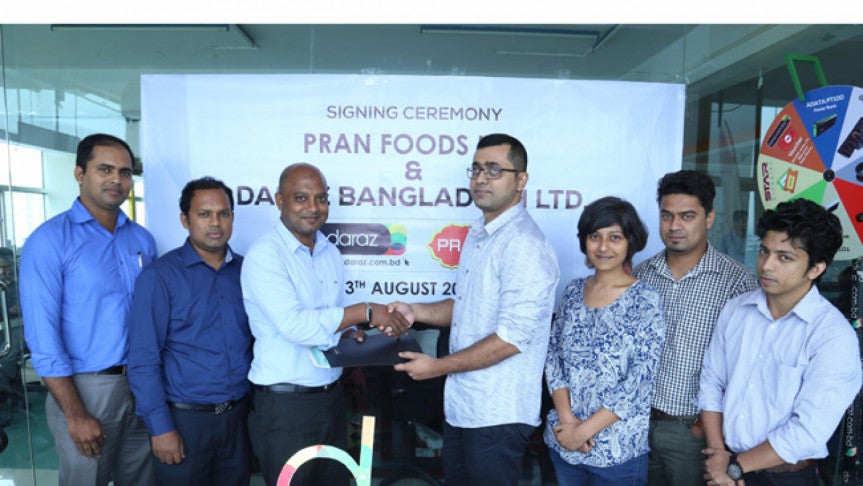 Now customers can purchase fruit drink, bakery, carbonated drink, spices, confectionary, biscuits, chips, dairy and other products of PRAN through online market place Daraz.com.bd.
PRAN Foods Limited and Daraz Bangladesh Limited signed an agreement in this regard, said a press release on Tuesday.
Syed Mostahidal Hoq, Managing Director of Daraz Bangladesh and Mamun-Ur-Rashid, Deputy General Manager of PRAN Foods signed the agreement on behalf of their respective organizations at the head office of Daraz in the city.
Mamun-Ur-Rashid said customers will be able to purchase more than 400 PRAN products through online with the signing of the agreement.
Syed Mostahidal Hoq said PRAN is the largest food processing company in the country and Daraz Bangladesh is the largest e-commerce platform. 'Partnership between the two large companies will surely add to customer satisfaction.'
Ehtasham Hossain Eram, Head of Strategic Planning and Excision of Daraz Bangladesh, Shayantani Twisha, PR and Communications Manager, Rashed Mahmud, Vendor Manager, Tarikul Islam, Manager at PRAN Foods and Sanjib Chakraborty, Assistant Manager, were present.