An encounter with Chowdhury Jafarullah Sharafat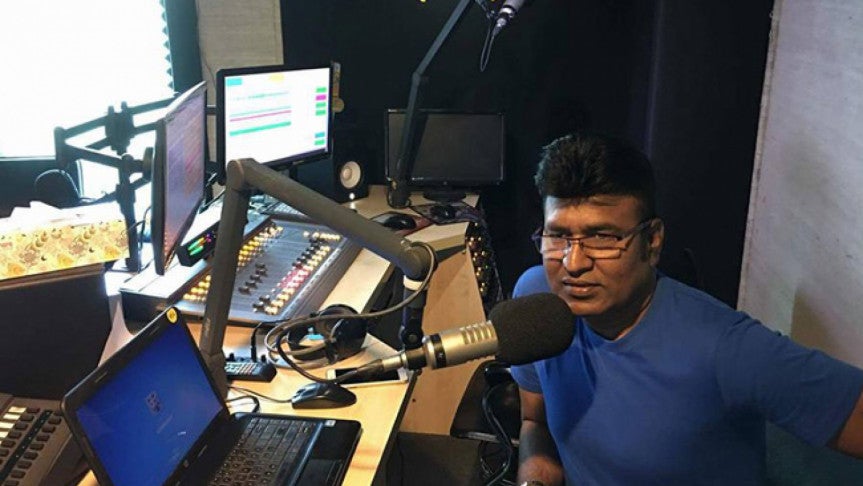 Being a commentator he has covered a record number of World Cup Cricket tournaments, nine to be precise. Due to his inimitable style and unique tonal quality, Chowdhury Jafarullah Sharafat has carved a distinct niche for himself. This reporter caught up with him during the third day of the historic 100th test match of the Bangladesh Cricket Team. As Bangladesh was apparently in the driver's seat, Sharafat took a little break from the commentary box of the Radio Shadhin where he has joined as a brand ambassador recently. Read on to know more. 
We mostly know you as the commentator of the state run medias: such as the Bangladesh Television and Bangladesh Betar. Why did you switch to a private media outlet?
I still work for the Bangladesh Television and Bangladesh Betar. However I feel private media outlets have intensified the competition in this competitive market and I think eventually this competition would challenge us all to come up with better programmes. I believe this will help us to increase the quality of commentary. I have also worked for Radio Bhumi. I have joined Radio Shadhin because the environment here is really good and they are promoting cricket commentary in a very positive way by including many new and promising commentators in the team.
You started your commentary career at a very early age and early 80s was the time when you started receiving accolades for your unique style of commentary. When you look back, how do you evaluate your journey? 
When I started my journey, we had stalwarts like Abdul Hamid, Khoda Box Mridha, Mintu, et al. Unfortunately, none of them are alive today. I am the last man standing from that generation. During the time of audition, I was asked whether I can reach to the height of the great Abdul Hamid. I replied I want to reach to Chowdhury Jafarullah Sharafat's height. Till day I still try to maintain that uniqueness. I don't believe in copying and perhaps that's why I am always conscious when choosing words. My goal was to become number 1 in whatever I do. I don't know how far I have reached to my goal. But I never left any stone unturned.
You have published a book at the Ekushey Book Fair. Please tell us something about it.
This book is kind of an autobiography. Shikha Prokashoni has published the book titled as 'Ami Chowdhury Jafarullah Sharafat Bolchi'. It contains many of my photo sessions with legendary cricketers I met during the time of commentary in my three decades long career.
Of late, we do get to see you in TV commercials or music videos. Will you be regular to them? 
Actually I can't say no to some projects that are offered to me by my most loved persons whom I admire a lot. The Robi pacer hunt commercial was one of such projects. Same can be said about the 'Beainshab' music video, composed by Pritom Hasan. This music video was aimed at the wedding ceremonies where we mostly play foreign music. I believe this music video is a refreshing change in our music industry and it has made us dance to our own songs at the wedding parties. I worked with actor Zahid Hasan and celebrity chef Keka Ferdousy in this music video which was indeed a great experience for me.
What keeps you busy these days?
I am working at a reputed private bank. Commentary is not something I do for a living. It is my passion which drives me in commentary. I have a plan to start a workshop that will train upcoming commentators. This commentator hunt programme is my dream project.
Your thoughts on present Bangladesh Cricket Team
I think enough has been said about the selection process. The team is in good hands right now and the selectors are very renowned former cricketers. We should let them do their job rather than criticizing them for team selection. We have good mixture of young and experienced cricketers in the team. More young and talented cricketers are in the pipeline. I have given commentary in all major victories of Bangladesh Cricket team, starting from the historic 1997 ICC Champions Trophy final. It is my dream to do commentary on Bangladesh's victory at the final of the World Cup Cricket and I believe our cricket team is in right direction in reaching near that dream.