Int'l Day of the Midwife
Story of a dedicated midwife working in a BD Health Complex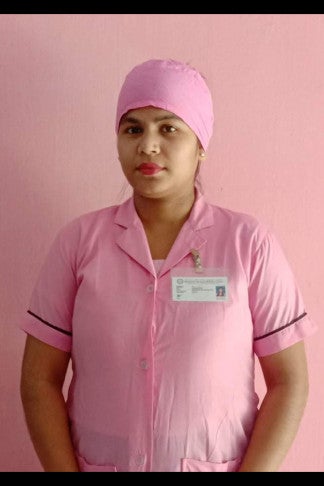 My name is Sayeda Mahfuja Aktar Jhumu and I am a midwife working in Muktagacha-Upazilla Health Complex (UHC), Mymensingh. I am also the Vice-President of Bangladesh Midwifery Society (BMS) and honoured to be one of the first cohorts of professional diploma-level midwives to graduate in Bangladesh in 2016. As a midwife I can provide comprehensive sexual and reproductive health services for mothers and new-borns. This includes antenatal and postnatal care, family planning and normal delivery. I am also trained to respond to emergencies and work closely with doctors and other professional colleagues.
I recently returned to work from maternity leave, following the birth of my daughter who is six-months old. My family lives close to the UHC and I work there with my mother and younger sister. As health workers, we are afraid of contracting Novel Coronavirus ourselves. I am especially anxious because I have a young baby who still needs breastfeeding. Although I get a short break to feed my baby during working hours, it is difficult to come and go between home and workplace whilst maintaining the necessary infection control procedures, such as taking off and putting on personal protective equipment (PPE) and disinfecting myself. Recently one of my colleagues with whom I worked closely was diagnosed as Covid-19 positive and I was frightened. Thankfully, I was tested and the result was negative.
Midwives like me in UHCs across Bangladesh are facing many challenges during the Coronavirus pandemic. Many are not able to visit their families due to the lock-down, and many are not able to take leave from work although they need it. Midwives are trying their best to protect pregnant mothers from COVID-19 infection; they frequently wash their hands, wear PPE where available and counsel pregnant mothers on how to protect themselves. Despite their risk of exposure to Coronavirus, midwives continue their services with full commitment to reduce the maternal and child mortality rate in Bangladesh and to prevent unnecessary C-Sections. I am proud that the Bangladesh Midwifery Society is supporting its members through the distribution of PPE where necessary and availability of a hotline for midwives to report issues.
The 5th of May is International Day of the Midwife. This year it is even more special because WHO has declared 2020 as Year of the Midwife and Nurse. On this special day, on behalf of BMS, I congratulate all midwives for their dedication and implore families and policy-makers to advocate for every woman to have access to a midwife's care in Bangladesh. Join me in recognising the service of midwives and in applauding them for their hard work in UHCs across Bangladesh.