Level-playing field can't be ensured keeping me in jail: Khaleda Zia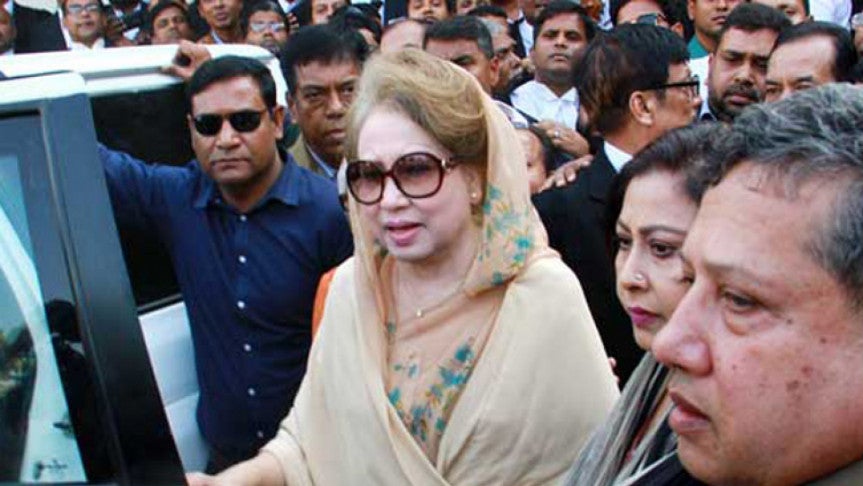 Dhaka: BNP Chairperson Khaleda Zia on Wednesday told a court that a level-playing field cannot be ensured for all political parties in the upcoming general election keeping her and her party leaders in jail.
'While everyone is busy with the election, we've been confined to the court. We're made to conduct our election activities amid numerous obstacles,' she said during the charge-framing hearing against her in the Niko graft case in the Dhaka Special Judge Court-9, reports the UNB.
'This can't happen that one party will participate in the election keeping me in jail and my party leaders and activists in court,' the BNP chief said, demanding that all parties are given equal facilities for conducting electioneering.
She also urged the court to stay the trial proceedings of the case until the election ends.
Khaleda said the trial in the case should not continue inside the Old Central Jail as it lacks adequate air and light. 'The Constitution safeguards people's basic rights but the court has no atmosphere for holding a public trial. How the justice will be established?'
Meanwhile, the court fixed January 3 for hearing the charge-framing against the BNP chairperson and others in the Niko graft case.
Dhaka Special Judge Court- 9 Judge Mahmudul Hasan fixed the date after Khaleda's lawyers filed a petition seeking adjournment of the hearing.
Khaleda Zia was brought to the court in a wheelchair during the hearing.
On November 7, the Law Ministry issued a gazette notification saying that the trial of BNP Chairperson Khaleda Zia and other accused in the Niko corruption case will be held at the makeshift court in Old Dhaka Central Jail.
Khaleda Zia has been in jail at Nazimuddin Road since she was sentenced to five years' imprisonment in the Zia Orphanage Trust corruption case on February 8 last.
The ACC on December 9, 2007 filed the Niko graft case against Khaleda and four others in connection with a Tk 137.77 loss to the national exchequer caused by the signing of an oil-gas exploration agreement with Canadian company Niko during the BNP tenure.