3rd Nepal-Bangladesh Business Forum held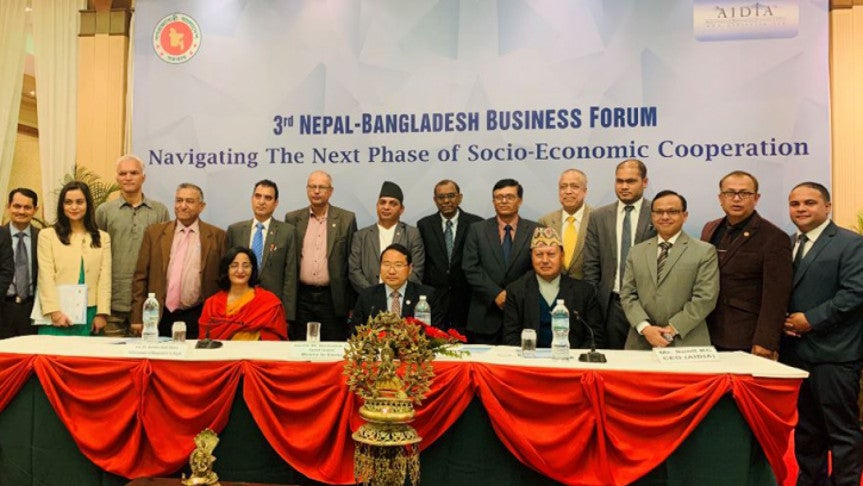 Kathmandu: The Embassy of Bangladesh in Kathmandu, Nepal in collaboration with Asian Institute of Diplomacy and International Affairs (AIDIA) organized 3rd Nepal-Bangladesh Business Forum (NBBF) at Radisson Hotel, Kathmandu on 28 March 2019 with a theme of Navigating the Next Phase of Socio-Economic Cooperation.
Barshaman Pun Ananta, Minister for Energy, Water Resources and Irrigation of Nepal inaugurated the Business Forum, said a press release.
The Business Forum seminar consisted of two session, the first session discussed the theme 'Strong Media Cooperation for Enhancing Bilateral Ties' and the second session dicussed the theme Expanding Multimodal Connectivity for Mutual Economic Growth.
Madhu Raman Acharya, former Foreign Secretary  and Permanent Representative of Nepal to the UN presented the keynote paper of the first session where Enamul Hoque Chowdhury, Editor-in-Chief, The Daily Sun, Bangladesh; Narayan Wagle, Editor-in-Chief, Kantipur Daily, Nepal; Madan Lamsal, Chief Editor, New Business Magazine and Abhiyan Daily, Nepal participated as panelists. The session was chaired by former Information and Communication Minister Mohan Bahadur Basnet.
The second session was chaired by Madhusudan Adhikari, Secretary, Ministry of Physical Infrastructure and Transport of Nepal. Dr. Golam Rasul, Chief Economist of International Centre for Intregrated Mountain Development (ICIMOD) presented the keynote speech where Dr. Surya Raj Acharya, Bibeksheel Sajha; keshab Sharma, Director General of Department of Road of Nepal; Laxman Bahadur Basnet, former Executive Director of Transport Development Board of Nepal participated as panelists.
In the concluding session, Ambassador Ms. Mashfee Binte Shams stated that the Embassy is working with stakeholder across the board to promote and facilitate business and trade among the two countries. She emphasized that media had a vital role to play in promoting bilateral cooperation while multimodal connectivity was an essential element for socio-economic development of this region.  She also stated that Bangladesh is now  a middle income country and moving towards becoming a developed and prosperous nation, the 'Sonar Bangla' dreamed by the Father of the Nation under the dynamic leadership of Bangabandhu's daughter Hon'ble Prime Minister Sheikh Hasina and invited the business and media people of Nepal to take advantage of the development and prosperity of Bangladesh. The 3rd Nepal-Bangladesh Business Forum (NBBF) was widely participated by members of various business associations, members of Bangladesh-Nepal Chambers of Commerce, business entrepreneurs, bankers, civil society members, think tank members, government officials, newspaper editors and different print and electronic media representatives.