89th Academy Awards
Viola Davis wins Oscar on third try for 'Fences'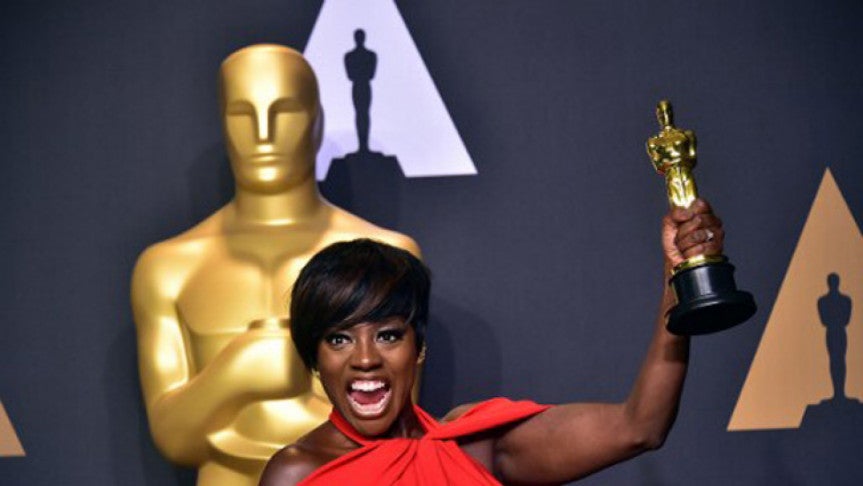 Hollywood, US: The third time was indeed the charm for Viola Davis, who took home the best supporting actress Oscar on Sunday for her gut-wrenching performance in the big screen adaptation of August Wilson's searing play 'Fences.'
The 51-year-old, a nominee in 2009 and 2012, bested a field that included two past Oscar winners—Nicole Kidman ('Lion') and Octavia Spencer ('Hidden Figures')—as well as Michelle Williams ('Manchester by the Sea') and Naomie Harris ('Moonlight').
'O captain! My captain! Denzel Washington, thank you for putting two entities in the driving seat—August and God. And they served you well,' she said, appropriating a verse from US writer Walt Whitman.
In 'Fences,' directed by and co-starring Washington, Davis plays the wife of a bitter, frustrated garbage collector in Pittsburgh in the 1950s, who has to come to terms with the missed opportunities of his past.
Her character, Rose, has to endure her husband's infidelity and his difficult relationship with their son.
The Oscar is the crowning achievement for a dominant awards season for Davis, who also took home the Golden Globe, a Bafta, the Screen Actors Guild prize and a number of other honors for her work.
Davis, who was born in August 1965 on her grandmother's farm in South Carolina, has spoken of her frustration at casting directors who are unable to see past the color of her skin.
Primarily known in her early career for her theater work, she grew up in Central Falls, Rhode Island, where her father was a horse trainer and groomer.
Her acting talent earned her a scholarship to the state's Young People's School for the Performing Arts, and after majoring in theater at Rhode Island College, she studied at the prestigious Juilliard School in New York.
Third time lucky
In 2009, she was nominated for the Oscar for best supporting actress for her role in 'Doubt,' playing alongside Meryl Streep, as the mother of a son who has an ambiguous relationship with the principal at his Catholic school.
She lost out on that occasion to Penelope Cruz, who bagged the statuette for playing the emotionally unstable ex-wife of an artist in Woody Allen's 'Vicky Cristina Barcelona.'
Three years later, Davis was nominated for the best actress Oscar for her role in 'The Help'—but lost out to Streep's towering performance as British prime minister Margaret Thatcher in 'The Iron Lady.'
In that film, she played stalwart domestic Aibileen Clark, who is punished for helping an aspiring white author who decides to write about the true lives of black maids in the Deep South at the height of the civil rights movement.
Over the years, Davis has landed bit parts in a series of critically acclaimed films, most notably 'Traffic,' 'Out of Sight,' 'Antwone Fisher,' 'Syriana,' 'World Trade Center' and 'Disturbia.'
She made history in 2015 when she became the first black lead actress to win an Emmy, for 'How to Get Away with Murder,' and this year she became the first black actress to receive three Oscar nominations.
'It's not every day that Hollywood thinks of translating a play to screen,' she said as she picked up her Golden Globe for 'Fences' in January.
'It doesn't scream moneymaker, you know? But it does scream art. It does scream heart.'