Continue efforts to hold credible election, President asks EC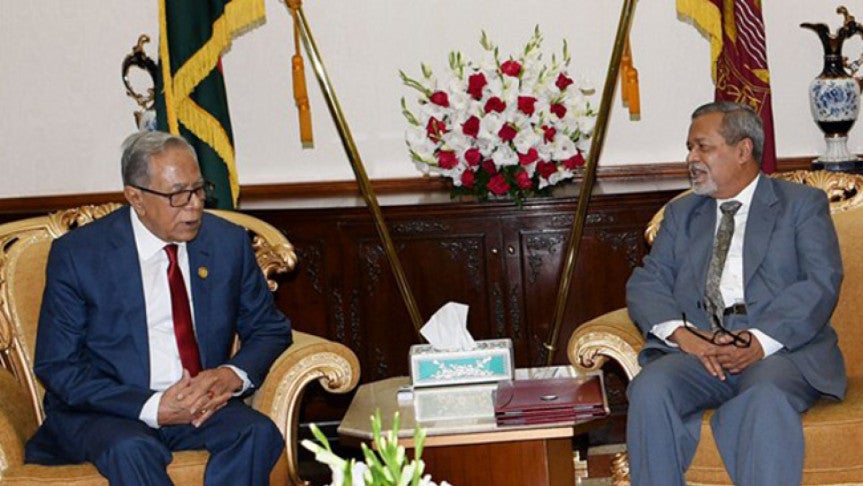 Dhaka: President Abdul Hamid on Thursday asked the Election Commission and others concerned to continue their relentless efforts to hold the 11th parliamentary elections in a free, fair and peaceful manner.
The President came up with the directives when a six-member EC delegation, led by Chief Election Commissioner (CEC) KM Nurul Huda, met him at Bangabhaban, reports the UNB.
'At the meeting, the EC apprised the President of its overall preparations for the next general election. It also informed the President about the demarcation of 300 constituencies and preparation of voter list with and without photographs,' President's Press Secretary Joynal Abedin told UNB after the meeting.
Abdul Hamid advised the EC and others concerned to avoid all sorts of controversies in election activities, he said.
The President directed the EC to play a more active role in preventing the abuse of technologies during the election time, saying it hampers any good work.
Election commissioners Mahbub Talukdar, Md Rafiqul Islam, Kabita Khanam and Brigadier General (retd) Shahadat Hossain Chowdhury, EC Secretary Helaluddin Ahmed and secretaries concerned to the President were present at the meeting.
After the meeting, the CEC said a meeting on fixing the schedule for the upcoming national election will be held on Sunday (Nov 4).
'There has been no decision yet. President Abdul Hamid has been apprised of the election preparations. The EC will sit in a meeting on November 4 for taking the decision over the election schedule,' he told reporters emerging from Bangabhaban.
According to the Constitution, the EC is bound to hold the general election within 90 days before the expiry of this Jatiya Sangsad.
The EC is planning to hold the election in the middle of December after announcing the schedule at the beginning of November.