Time to pull the strings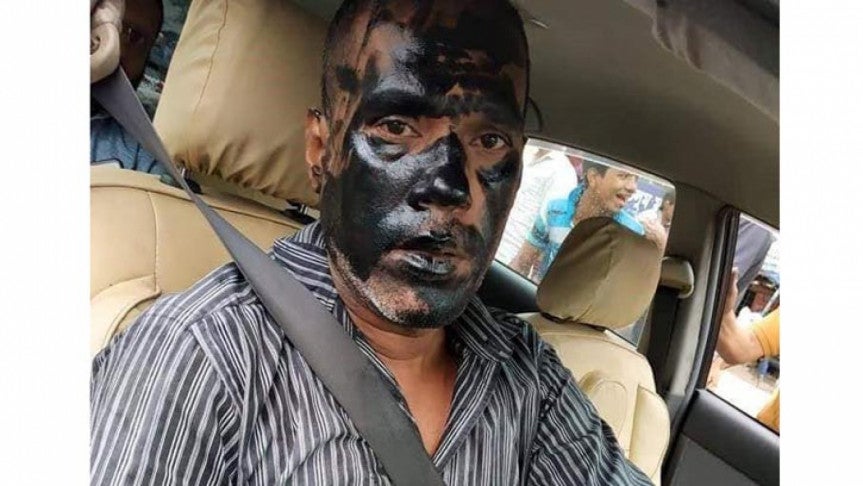 BBC News wrote in a report, 'Road accidents are common in Bangladesh where an estimated 12,000 people die in various traffic-related accidents every year. Most are blamed on reckless driving, poor road conditions and old vehicles.' Road accidents pull back the wheel of development of the country. They take away hundreds of lives and make their families vulnerable. People take to streets after an accident; students leave study and protest on the road which incurs more losses to lives, energy, money and property; but real culprits behind the mayhem stay untouched which leads to the recurrence of such events and for common people silently waiting for the next accident and its victims. When hundreds of students were staging demonstration in Dhaka to protest the death of BUP student Abrar Ahmed, three others were killed by bus in Sirajganj with may be many others unreported throughout the country.  A bus presses down pedestrians on a zebra crossing while competing with another bus, a bus conductor pushes down passengers who fall under the wheels of another bus, a truck slides down the road while speeding up to catch its mate and kills passengers, vehicles fail brakes and hit pedestrians, etc. are very common mishaps that are taking place all over Bangladesh but the accused transport workers remain scot-free.
Transport owners and workers' unions resent legal decision by paralyzing Dhaka city forcefully. They siege the operation of vehicles, call for strikes and avenge on people by teasing and applying grease on their face and dress if they try to reach the destination by any alternative means; they do not spare women either. In fact, the whole country, especially Dhaka city has been hostage to transport goons. After every road accident, government asserts some lame assurance to tackle the situation but ultimately fails to nab the hooligans, so they come up with alternative steps like giving compensation money to the relatives of the deceased or making foot over bridges in the names of the killed. It's horrifying to say that no place is safe for pedestrians—the road itself or the footpath or zebra crossing. Last Tuesday, Abrar Ahmed, a student of Bangladesh University of Professionals (BUP) was killed after a bus ran him over at Nodda in Dhaka. Witnesses said he was crossing the road on the zebra crossing; still the bus hit him as it was racing with another bus to grab passengers. On Thursday, Aasha Mehreen Amin in her op-ed article in The Daily Star questioned how zebra crossing had become death traps. Last year, court punished two drivers for killing people but transport workers went on two-day 'work abstention'. Aasha gestured at the 'political backing' of the transport people 'to do whatever they want'.  Government fears transport owners and workers, so they will do anything possible to keep them safe at the cost of other stake holders like common people and students.
From 29 July to 8 August 2018, a series of public protests were held in Dhaka for safer roads which followed the deaths of two high-school students in Dhaka pressed down by a bus operated by an unlicensed driver who was racing to collect passengers. The incident impelled students to demand safer roads and stricter traffic laws. The demonstrations rapidly spread throughout Bangladesh. On 4th August, police along with members of the ruling party attacked the protesters. The movement died with floating promises from the government, false cases and injuries to the protesters.
On 25 January, 2019 Dhaka Tribune published a report of Bangladesh Passengers Welfare Association that mentions that at least 7,796 people were killed and 15,980 were injured in 6,048 accidents in land, water, and air ways across the country in 2018.  This includes 7,221 deaths in road accidents. A further 394 people were killed and 284 were injured in 370 train accidents, 126 were killed, 387 others went missing and 234 others injured in 126 accidents on waterways while 55 people were killed and 32 injured in five accidents in airways, the report said. Hossain Zillur Rahman, former adviser to the caretaker government of Bangladesh said, the problem remains, though several initiatives were taken to decrease the number of accidents as the measures were deficient in making it accountable and credible.  'To bring discipline in the transportation system, transport sector should be brought under the center of policy making,'  he said. Distracted attitude of drivers, pressure from transport owners to conduct more trips, careless and inattentiveness attitude of passengers are some of the factors that give rise to accidents, he added. Aiubur Rahman, former BRTA chairman said, it was really a great initiative to formulate the Road Transport Act, but is yet to be implemented.  Reckless driving, overtaking, constructional error of the road, unfit vehicles, careless attitude of pedestrians, unskilled drivers, use of mobile and headphones while driving vehicles, driving after use of drugs, sudden appearance of vehicles on the highway and rail crossings from the feeder roads, lack of and grabbing of footpaths, overloading vehicles and increase in the number of small vehicles are the various reasons, the report said. The measures recommended to combat the menace in the report included implementation of the road transport act, conducting regular road safety audits and campaigns, to free footpaths from illegal capture, establishing and drawing road signs and traffic symbols, arranging professional training and ethical education for drivers, removing unfit vehicles from the roads, making separate lanes in highways, repairing roads, preventing three-wheelers from using highways, and constructing overpasses and underpasses on the national and regional highways for pedestrians.
Road accidents cause severe economic and social damages. A World Bank research conducted by Tashmina Rahman unveils that there has been an alarming rise in road accidents, significantly highway accidents in Bangladesh over the past few years. A study conducted by the Accident Research Centre (ARC) of BUET, road accidents claim on average 12,000 lives annually and lead to about 35,000 injuries. According to World Bank statistics, annual fatality rate from road accidents is found to be 85.6 fatalities per 10,000 vehicles. Hence, the roads in Bangladesh have become deadly! But these statistics, numerically shocking as they may be, fail to reflect the social tragedy related to each life lost to road accidents. Think of a single accident that took lives of 44 school children in July 2011, after the truck they were travelling in skidded off and fell into a pond due to reckless driving. Just after a month, two talented personalities—filmmaker Tareq Masud and journalist Mishuk Munier were killed in road accident. People took to streets demanding immediate action to bring justice for those killed and to ensure road safety, but progress is not significant.
A proper estimation of the economic cost of lives taken by road accidents in Bangladesh would surely reflect the considerable loss of addition to GDP. According to WHO, the economic cost of road accidents to developing countries is 2-3% of GDP. Apart from The obvious question is: how many doctors, engineers, scientists, inventors and other future potential has the nation lost?
None of the measures mentioned above will work for making roads safe unless government's reliance on transport owners and workers is diminished. People's lives and property can never be sacrificed only to patronize transport folks.  Transport sector's audacity must be handled to establish that they are not above law. The syndicate that controls transport sector must be busted for the sake of the people. Government must understand that patronising the terrorism of the transport folks is isolating from people.