Begum Rokeya: Name of a brief candle in the darkness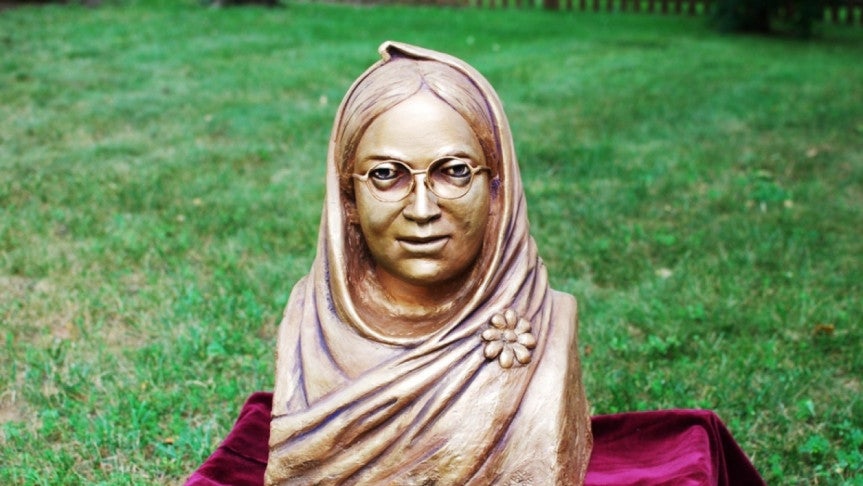 Today is Rokeya Day. As her birth and death coincide on the same date (9 December), the day is officially chosen to celebrate and commemorate her life and works. Rokeya Sakhawat Hossain (1880–1932), commonly known as Begum Rokeya, is undoubtedly the most prominent 20th century Muslim woman writer from the colonial Bengal (present-day Bangladesh and West Bengal of India). She dedicated her life in promoting female education and advancing gender equality through her life-long endeavor of writing and activities related to social reformation. She single-mindedly devoted her life to establish a society where women will actively be able to contribute in educational, economic and political spheres.
As a writer and social activist, Rokeya worked for nearly three decades: from 1902 to 1932. She can be singled out as a unique feminist in the history of women liberation movement; because she produced literature to advocate a gender egalitarian value, wrote essays to educate man and women on the importance of a gender-equal society, created educational institute to materialize her dream and formed social organization to create awareness among mass people on the importance of girl's education. To my knowledge, I have not heard of any other individual who fought for women emancipation in the society did all four necessary and brave initiatives that Rokeya took to help progress the condition of women. It may sound a bit overstatement, even the most notable feminists like Virginia Woolf (1882–1941) and Simone de Beauvoir (1908–1986) will not be a match for Rokeya's activities.
Starting with her debut writing Pipasa ("Thirst", 1902), she continuously wrote till her death and contributed literary works and essays that primarily and mainly promote gender-egalitarian values in her society, going against the staunch criticism formulated by the patriarchal society and pseudo-religious zealots. Some of her social reformative works include collection of essays Matichur (1904), Utopian fiction Sultana's Dream (1905), novel Padmarag ("Essence of the Lotus" 1924) and Abarodhbasini ("The Secluded Women", 1931).
Among the works, Sultana's Dream is widely known as the most outstanding work of Rokeya. It portrays a character named Sister Sara who is a knowledgeable person in modern branches of knowledge such as history, politics, military strategy, education and science. This critically questions the patriarchal belief of intellectual supremacy of man. In Padmarag, as it was not practically possible to prove that women can be knowledgeable as man, she depicts an imaginary and ideal system of female education where science, literature, geography, history and mathematics are taught.
With the help of her husband Sakhawat Hossain's Rs. 10,000 (a good sum of money at that time), Rokeya established Sakhawat Memorial Girls' School in 1911 and worked relentlessly to convince parents of the need to send their daughters to the school. As the society was not in favor of girl's education and fueled by social and pseudo-religious dogmas, it was not an easy job to do. Beside the unshakable commitment to women emancipation through education and their involvement in public spheres, she was also politically active as she knew that without organizing women for the cause, her ideas would not see light. She set up the Calcutta branch of the Anjuman-e-Khawatin-e-Islam in 1916 and led from the front by inspiring and motivating Muslim women to get involved in advancing women rights and female education. At that time, setting up such an organization was beyond imagination. This clearly demonstrates her bravery and unswerving loyalty to advocate for women rights, not only through her writing but also with her social and political activities.
In brief, it can be argued that Rokeya Sakhawat Hossain's contribution in the emancipation of women is incomparable in the history of feminist movement. And it is a sad reality that we failed to credit her as much as she deserves. There should be more academic works on her and her writings. Rokeya's dedication to gather knowledge and contribute in the society reflects with the fact that she continued writing for reforming society and for the causes of women until the last breath of her life in 1932. She died of heart attack on December 9, 1932, while leaving her last essay 'Rights of Woman' unfinished on her study table.
*Abu Sufian – who is also known as The Silent Poet – is a Bangladeshi poet and writer.