SCC, equivalent result: Girls ahead of boys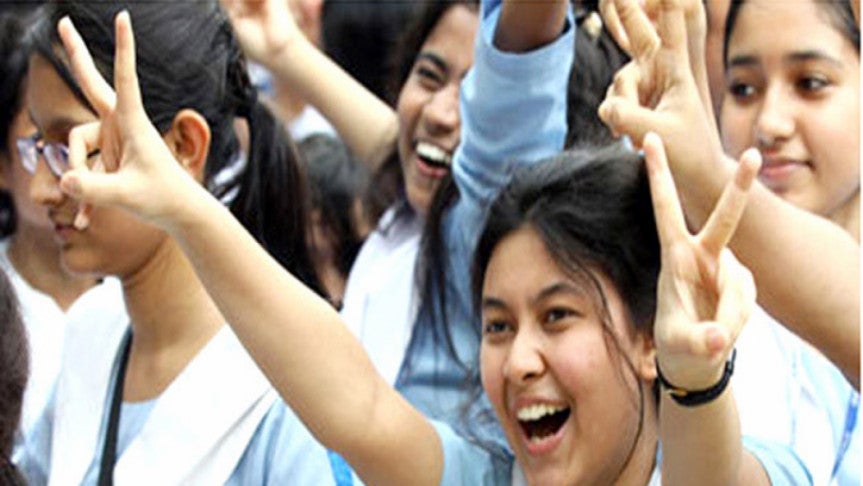 Dhaka: The results of this year's Secondary School Certificate (SSC) and its equivalent examinations, held under 10 education boards, were published on Monday, showing a pass percentage of 82.20.
This year's pass rate is 4.43 percent higher than last year's when the overall pass rate in the SSC and its equivalent examinations was 77.77 percent, reports the UNB.
Chairmen of the education boards handed over the results to Education Minister Dr Dipu Moni at the International Mother Language Institute here in the morning.
Later, the minister announced the results at a media briefing there.
The minister also read out a written speech of Prime Minister Sheikh Hasina at the press conference.
The Prime Minister, now in London, also joined the programme through mobile phone and greeted all the successful students.
Sheikh Hasina asked the students who could not came out successful in the examinations to take preparations again.
A total of 1, 05,594 students secured the highest grade of GPA-5 in the examinations. Last year, the number of GPA-5 achievers was 110,629 under the 10 education boards, including eight general ones.
This year, girls performed better compared to boys in the examinations as the pass rate among boys is 81.13 percent while among girls it is 83.28 percent.
The girls performed better than boys in terms of achieving GPA-5 as a total of 52,110 male students obtained the highest grade while the number of girls who obtained the GPA-5 is 53,484.
The pass rate is 82.80 percent under eight general education boards, while it is 83.03 percent under Madrasah Board and 72.24 percent under the Technical Education Board.
Some 16.25 lakh students appeared at the examinations under eight general education boards, while 3.06 lakh under Madrasah Education Board and 1.26 lakh under the Technical Education Board.
The number of GPA-5 achievers under the eight boards are 94,556, while 6,287 under the Technical Education Board and 4,751 under the Madrasa Board.
The pass rate in Dhaka Board is 79.62 while 91.64 in Rajshahi Board, 87.16 in Cumilla Board, 90.88 in Jashore Board, 78.11 in Chattogram Board, 77.41 in Barishal Board, 70.83 in Sylhet Board and 84.10 in Dinajpur Board.
A total of 423 students appeared in the examinations from overseas centres. Among them, 389 students came out successfully in the examinations.
A total of 2583 schools under all the education boards in the country achieved 100 percent pass rate this year while no student could pass the examinations from 107 schools.
The results will be published at 2:00pm simultaneously at all the educational institutions of the country, and those will be available on the Education Ministry website and through mobile SMS.