BNP manifesto bats for higher GDP growth, scrapping black laws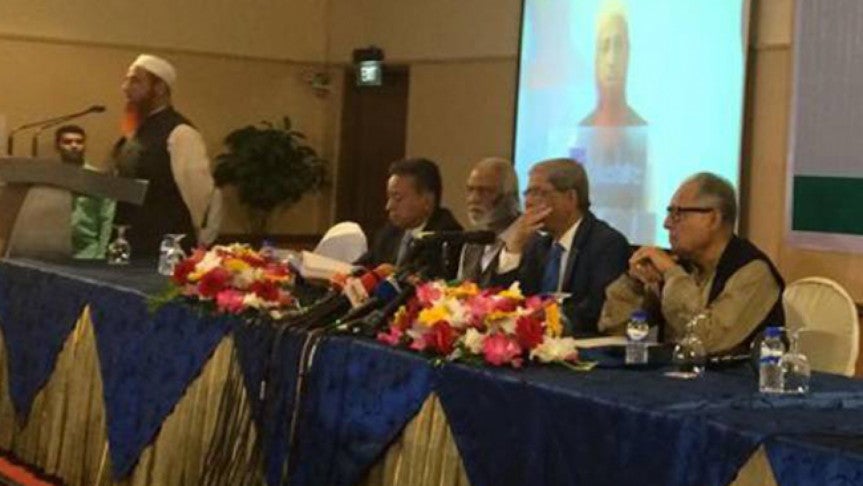 Dhaka: BNP rolled out its election manifesto for the 11th parliamentary elections on Tuesday with a set of promises, including making democracy an everyday practice, building a vengeance-free Bangladesh and raising GDP growth to 11 percent. 
It also pledged to scrap the controversial Digital Security Act, Official Secrecy Act and other black laws if it is voted to power in the 11th parliamentary elections, reports the UNB.
BNP secretary general Mirza Fakhrul Islam Alamgir unveiled the party's 19-point manifesto at a city hotel at 11am, 12 days before the national election.
'I'm announcing the manifesto on behalf of former prime minister and BNP chairperson Khaleda Zia and I want to assure you that no revenge will be taken against anyone if BNP is voted to power,' said Fakhrul.
The BNP leader said people's ownership of the country will be consolidated if their party returns to power. 'We'll turn the practice of democracy an everyday affair.'
BNP came up with its own manifesto a day after the party's key alliance Jatiya Oikyafront presented an election manifesto. The two manifestos are almost similar.
Though Jatiya Oikyafront pledged to continue the trial of war cremains, such commitment was not there in the nine-page BNP manifesto read out by Fakhrul.
As his attention was drawn to the matter, the BNP secretary general said he presented a short version of their manifesto. 'You'll get it in our full version of manifesto.' 
The party, however, did not provide the journalists with the copies of its full manifesto.
BNP's promises also include ensuring the balance between the power of the President and the Prime Minister, making public the probe reports on BDR carnage and Bangladesh Bank reserve heist and conducting more investigations into the incidents. 
The promises also include restoration of referendum system in the Constitution for establishing people's democratic rights, introducing upper House of Parliament involving people of all walks of life, increased representation of women in all the constitutional institutions.
Fakhrul also announced that steps will be taken so that one-party rule does not return to the country and check corruption.
A judicial commission will be formed for reforming the judiciary if BNP is voted to power, he said.
He said no ongoing development projects will be stopped, but probe will be carried out to examine whether there is any corruption in the mega projects.
A parliament of youths will be formed for ensuring the interests of the youth, he said.
He also said the 5 percent of GDP will be spent on the education sector.
The BNP leader also said steps will be taken to ease traffic and remove public sufferings during the movement of the President and the Prime Minister.
He also announced that a national commission will be formed to introduce a new political culture to get rid of the politics of vengeance and Ombudsman will be appointed to ensure the transparency and accountability of administration.
An additional armed police battalion will be constituted bringing a change in the existing structure of Rapid Action Battalion (Rab).
If BNP is voted to power there will be no age limit for entering government jobs, except those of defence, police and Ansar, he said.
The control of lower courts will bestowed upon the Supreme Court by amending the Article 116 of the Constitution, said the BNP leader.
Fakhrul said freedom of expression will be ensured by removing online monitoring system and steps will be taken to end extrajudicial killing, enforced disappearances, killings and inhuman physical and mental torture.
Zila Parishads will be elected through people's direct vote and city government will be introduced in municipal areas, he said.
Two lakh people will be given public jobs based on merits and qualifications in the first three years of the government while steps will be taken to create one crore jobs in the five years, he said.
Some other promises of BNP include making deputy speaker in parliament from the opposition, providing educated unemployed youths with allowances, revoking all types of VAT on students, withdrawing all cases filed against them during different movements, including quota-reform and safe road ones, making public the wealth information of the Prime Minister, ministers, MPs and higher government officials, increasing risk allowances for police, announcing freedom fighters as the revered citizens of the state and raising allowances for them, making a correct list of exact number of martyrs of the Liberation War, introducing allowances for destitute, widows and insolvent elderly people and forming a ministry for minority communities.