Bangladesh Embassy in Tokyo observes Shaheed Dibosh, Int'l Mother Language Day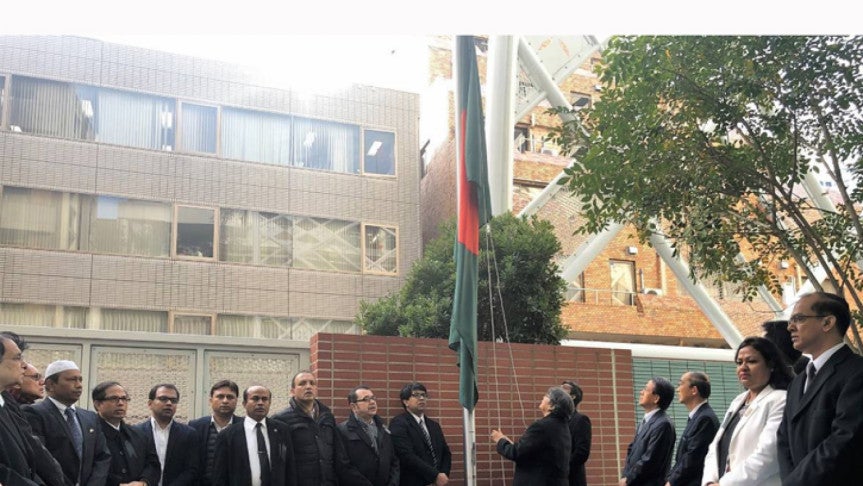 Bangladesh Embassy in Tokyo on Thursday observed Shaheed Dibosh and International Mother Language Day-2019 in a befitting manner through hoisting the national flag at half-mast at the embassy premises.
This was followed by one-minute silence and special prayer to pay deep respect to the language martyrs, reports the UNB.
Later, Rabab Fatima, Ambassador of Bangladesh to Japan, led the embassy officials and community members to place floral wreath at the altar of the Shaheed Minar at Bangabandhu Auditorium of the Embassy.
Different political, socio-cultural organizations also placed their floral wreaths on behalf their respective organizations, said the Embassy.
The messages of the President, the Prime Minister, the Foreign Minister and the State Minister for Foreign Affairs were read out.
The Ambassador paid deep tributes to the Father of the Nation Bangabandhu Sheikh Mujibur Rahman and the language martyrs for their supreme sacrifices and assured that Bangladesh Embassy in Tokyo will always continue its efforts to publicize the significance of Shaheed Dibosh and International Mother Language Day in Tokyo.
President of Japan-Bangladesh Society, Ambassador Matsushiro Horiguchi (former Ambassador of Japan to Bangladesh) also spoke at the occasion as a special guest and Kazuhiro Watanabe, translator of Bangabandhu's Unfinished Memoirs in Japanese presented his key note speech highlighting the significance of the Day.
Expatriate Bangladesh community members also took part in the discussion and paid their tribute to the language martyrs.
The programme was attended by, among others Shohei Hara, Director General of JICA, Professor Yuka Okuda from Tokyo University of Foreign Studies, Akiko Nara, MachikoKono-Whiting, Director of The Asia Pacific Ladies Friendship Society (ALFS), Japanese business leaders, government officials and many expatriate Bangladesh community members.